What are the Different Types of Occupational Therapy Jobs?
Occupational therapists work in a variety of settings, assisting individuals who suffer from illness, injury, or disability. These therapists help individuals engage in meaningful occupations such as vocational, recreational, or self-care activities. Social service organizations, institutions, and client workplaces are just a few possible settings for occupational therapy jobs. These assistants usually play a supporting role by implementing treatment plans and assisting clients with therapy programs as prescribed by the supervising occupational therapist. Wherever the work location, occupational therapists and occupational therapy assistants work in conjunction with doctors, employers, and family members to identify and remove barriers to client independence.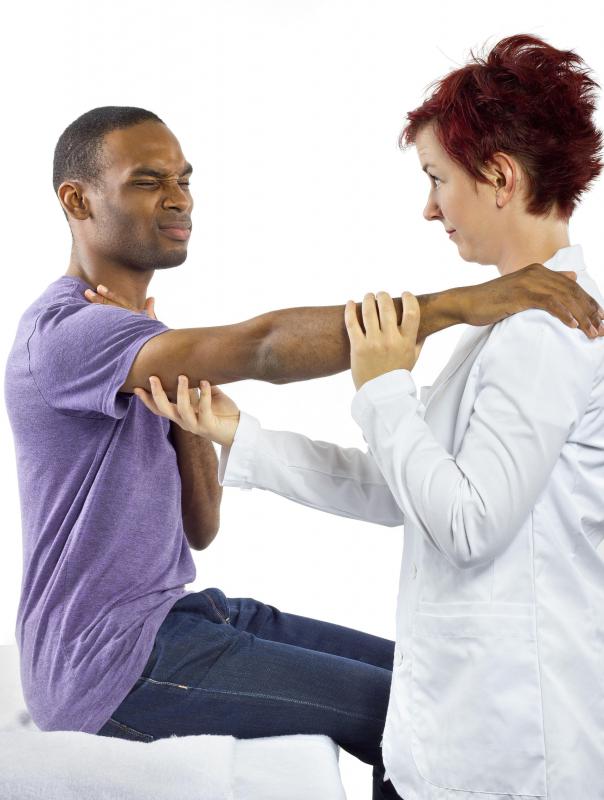 Many occupational therapists specialize in a particular patient demographic. This may be based on a physical location, client age, or on the nature of individual limitations, such as with patients recovering from brain trauma or addiction. Since occupational therapy jobs exist in a number of different sectors, an occupational therapist is often able to choose from a wide spectrum of possibilities. For example, an occupational therapist may work exclusively in school settings to assist students in overcoming physical or learning disabilities, in nursing homes to improve self care skills in geriatric patients, or in a rehabilitation facility to assist trauma patients to regain strength or mobility following an injury. In the workplace, occupational therapy jobs often focus on assisting sick or injured employees when they return to the workforce following an absence.
Typically, occupational therapy jobs involve an initial assessment in which client limitations are identified through interviews, observation, and clinical testing, followed by the development of a specific treatment plan based on client challenges and goals. Treatment plans may include physical, cognitive, or behavioral therapy, vocational retraining, or the introduction of assistive technology such as voice recognition software or specialized seating or standing products. Once a treatment plan is in place, the role of the occupational therapist is to monitor client progress and make adjustments to the plan as necessary, with the ultimate goal being full independence.
Educational requirements for occupational therapy jobs vary depending on location. In general, most occupational therapy associations require some combination of university training, usually a master's degree from a recognized occupational therapy program, supervised fieldwork experience, and the writing of a certification exam to be qualified to practice as an occupational therapist. Occupational therapy assistants usually require an associate's degree or college certificate in conjunction with on-the-job training. As there is a great deal of regional variation in requirements and there is no reciprocity of qualifications between regions, local occupational therapy associations should be contacted to determine specific requirements.