What Are the Different Types of Occupational Therapist Prerequisites?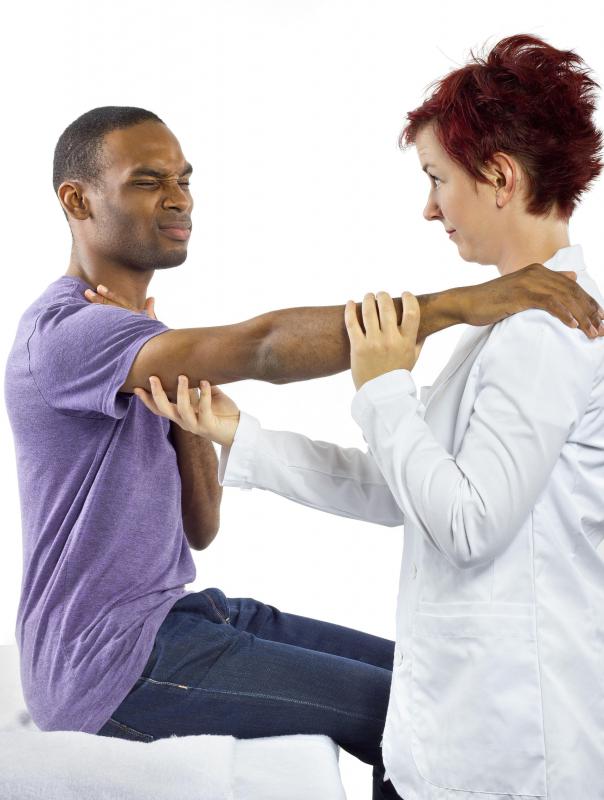 Most bachelor's programs in occupational therapy are five year programs which lead directly to a master's degree. Prerequisites are usually the same for gaining admission to the university, including certain high school classes and a minimum grade point average. For a master's degree in occupational therapy, a bachelor's degree is required. Professional prerequisites for practicing occupational therapy typically include graduation from an accredited program, fulfilling the application process, passing the character evaluation, and passing the exam.
Typically, a bachelor's degree in occupational therapy is not a terminal degree, and students are expected to continue on to the graduate level to complete their studies. Students must declare their intent to complete the occupational therapy program by their junior year in college in order to be eligible. In competitive programs, it can be very difficult to meet all the occupational therapist requirements. Declaration usually includes an application, resume, transcripts, and an essay on future goals, which can be accepted or declined by the admission's board.
Occupational therapist prerequisites at the graduate level are even stricter. In addition to submitting proof of a high school diploma or equivalent, standardized test scores, references from teachers, mentors, or employers, proof of a bachelor's degree, and a personal statement are often required. In 2011, most graduate programs will only accept students who have a grade point average of 3.0 or better in their undergraduate program as well as minimum scores on standardized tests. The actual requirements vary from school to school, but in general, the prerequisites for graduate school occupational therapy programs are stricter than undergraduate programs.
In almost all programs, part of the occupational therapist prerequisites are fieldwork assignments and internships. These hands-on experiences allow students to practice occupational therapy concepts on actual clients. Usually there are at least two internships, from six weeks to six months in length, both of which are completed under the supervision of a licensed occupational therapist.
There are also professional occupational therapist prerequisites. The first is the completion of an accredited occupational therapy program. There are no specific grades required, but most graduate programs will not allow students to graduate if their average falls below a B minus. Next, students must submit an application to take the licensing exam. Part of the application is often a character evaluation or ethics test, which may include a questionnaire as well as a background check to ensure that the applicant has not been convicted of any serious crimes.
Once the application and character evaluation are completed, students are allowed to take the exam, which is the last of the professional occupational therapist prerequisites. If they pass, they become licensed occupational therapists. At this point, they are free to apply for jobs in occupational therapy but, typically, only in the region specified by their license.
Occupational therapist prerequisites include fieldwork and internships.

The goal of occupational therapy is to address any issues that limit the patient's daily functionality.

An occupational therapist may treat patients with both physical and mental impairments.