What Are the Different Types of Mud Room Cubbies?
Mud room cubbies are useful for storing items up and out of the way in a mud room, and they give people a place to put things down when they come in from the outdoors. Shoe racks and boot trays are some of the most common types of mud room storage solutions; this allows people to take their shoes off and leave them in a place where they can dry without getting mud or water all over the floor. Mud room cubbies and closets for hanging coats and other types of outerwear, such as scarves are also common. A cubby for storing umbrellas might also be useful so they are easy to find.
Some create a system of mud room cubbies and dividers for the mud room, so each family member has his or her own cubby. For instance, a row of small closet-type cubbies might be installed with a shoe rack underneath, and a smaller shelf on top. This way, each person can take his or her coat off and hang it in his own cubby, put shoes underneath, and additional items such as hats and scarves on top. Children might also hang their backpacks in there at the end of the day.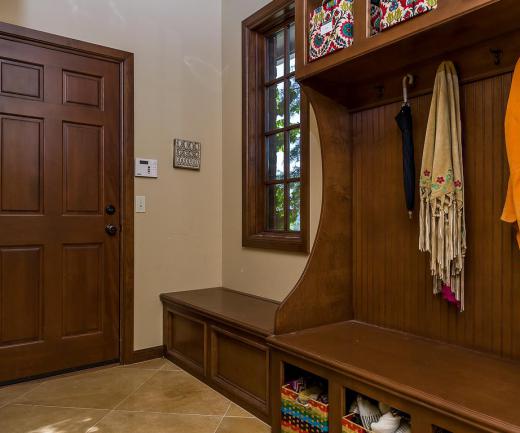 For families with several kids, or a lot of people in the household, multiple mud room cubbies can be an excellent organizational tool. Fighting over items will be reduced, since each child will know where his or her items are. It can also help to save time in the morning, and prevent items from being scattered all over the house, which can look messy and can also make them very difficult to find. Aside from mud room cubbies being used for clothing and weather items, such as rain boots and umbrellas, some people also use these for storing outdoor recreation items.
In homes without a basement or garage to store items, taller mud room cubbies can be created for storing items such as ski poles and equipment, folding chairs to use outside in the summer, or other items for playing outside such as baseball bats or other toys. Some people also use cubbies in a mud room to store things for pets, such as containers of pet food or litter. The amount of storage in a mud room depends on the size of the room, and the way the cubbies are designed, of course, but it can be a very useful room in a home.
AS FEATURED ON:
AS FEATURED ON:

By: Bill Wilson

Create a mud room cubbie for each member of the house to store their boots and shoes.