What Are the Different Types of Mozzarella Salad?
Cooks in the know recognize that one of the best ways to serve mozzarella is in a salad. A single green salad with the usual cucumbers, green peppers, and carrots becomes a full meal with the inclusion of some diced mozzarella, but the range of unusual and delicious mozzarella salads is really much more exciting. Mozzarella might seem like a shy cheese, given its mellow flavor and soft body, but it's substantial enough to stand up to much stronger flavors without losing its identity.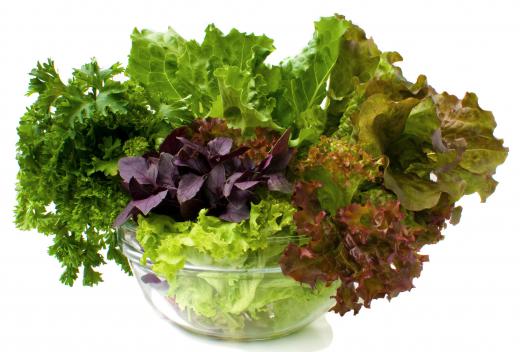 Some cooks claim the simplest of all types of mozzarella salad is truly the most exquisite. A bowl filled with sweet, plump cherry or patio tomatoes or a diced beefsteak tomato that nestles with fresh basil leaves and small rounds of fresh mozzarella can make a grown gourmet weep with joy. This salad is made complete with a drizzle of first-pressing, extra-virgin olive oil and either a splash of fig or balsamic vinegar or the squeeze of a lemon. While fabulous on its own, any leftovers tucked into a pita makes a heavenly lunch. Some cooks double up the recipe to create a salad for the evening meal and then toss the leftovers into a pot of freshly cooked, hot pasta in a day or two for another meal.
Another mozzarella salad with a South American ambiance fills the bowl with pearls of fresh mozzarella, diced or thinly sliced avocado, corn that has been roasted over a grill or an open fire, and a handful or two of tiny tomatoes. If grilling the corn is impractical, canned corn can be substituted. This salad works best with fresh cilantro and responds beautifully to an oil-and-vinegar dressing made with a bit of mustard and minced garlic. Some cooks like to include black or turtle beans or garbanzos for added protein and to make it a hearty meal.
When fresh tomatoes and basil aren't in abundance, a winter mozzarella salad is always an alternative. One version begins with cooked orzo or other small pasta shape and adds sliced or cubed mozzarella and whatever vegetables are in season. Red or green pepper, scallions, summer squash, or even pumpkin can fill in for sun-warmed summer tomatoes. The taste of this mozzarella salad can be switched up easily by experimenting with different-flavored vinegars, although the best dressing begins with the best olive oil available. Fruit vinegar such as berry or apple cider; darker, heartier vinegar like balsamic or fig; or even soy sauce instead of the vinegar dresses this pasta salad nicely.


Orzo, which is often included in mozzarella salad.

By: NataliTerr

Salad greens.

By: Marco Mayer

Balsamic vinegar, which can be used to top a mozzarella salad.

By: haru

A caprese salad, which includes mozzarella.

By: Viktor

A bowl of bocconcini, small balls of fresh mozzarella.

By: margo555

Mozzarella, drizzled with olive oil, is light, fresh, and delicious.

By: Jaimie Duplass

First cultivated in South America, turtle -- or black -- beans are strongly associated with Latin American cuisine.