What Are the Different Types of Motorhome Insurance?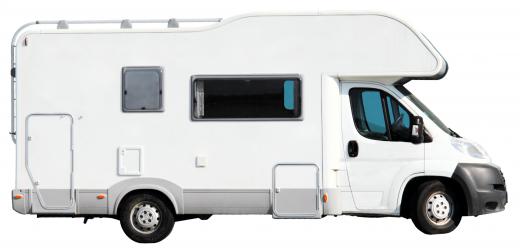 A motorhome is a large recreational vehicle that either contains an independent cab or is trailed behind an automobile or truck. It is used primarily for recreation, though some people do live in them full time. Like other cars and trailers, most governments require motorhomes to carry automobile insurance when being driven, such as collision, comprehensive, and uninsured motorist coverage. In some areas, additional special motorhome insurance is either required or available to cover the vehicle while it is parked.
As with other automobile insurance, motorhome insurance is comprised of many parts. Collision insurance is the portion of the insurance policy that pays for damages in the event of an at-fault collision. This includes payment for property damages for both the insured's motorhome and the other party's car, truck, home, or other property. It also covers payments made for injuries to any involved party.
Comprehensive insurance refers to coverage that applies when something other than a collision occurs and is not the insured's fault. For example, a motorhome could sustain damage due to theft; vandalism; or a road hazard, such as falling branches during a storm. In this case, the driver would collect payment for those damages under his comprehensive coverage.
Another portion of motorhome insurance is uninsured motorist insurance. This type of policy pays if a motorhome is in an accident with a driver who does not have insurance. In some areas, this type of policy is called uninsured and underinsured motorist insurance. This means that if the at-fault driver has insurance, but the policy is inadequate to cover the damages, the motorhome owner can collect the residual damages from his own policy. This type of policy is required in some localities and elective in others.
When a recreational vehicle is parked at the owner's home, it is usually covered by the standard auto policy. Due to the amount of space a motorhome takes up, however, these vehicles are often parked at storage facilities. In this case, special motorhome insurance might be required, though some policies cover vehicles parked on a spot rented by the owner, even if it is not at the owner's home.
All types of motorhome insurance require the owner to select between several options. These options include liability limits, which put a cap on the total a policy will pay, and deductible amounts, which determine how much the owner must pay before the policy kicks in. These options are key in determining the amount of the policy premiums.


By: zakaz

A Class C motorhome.

By: philipus

A Class A motorhome.