What Are the Different Types of Mehndi Designs?
The main categories of traditional mehndi design are Indian lacy floral motifs, Arabic arabesque patterns and north African or Moroccan symbolic designs. Traditional designs have been applied for centuries in India and countries that are influenced by Indian culture. Mehndi, or the art of applying henna to temporarily color hands and feet, has become popular in many parts of the world, and there are many newer patterns that have become popular. The number of designs is infinite, limited only by the imagination of the mehndi artist.
This art has been practiced for thousands of years. The designs that many people are most familiar with are the Indian designs that are popular in India and Pakistan since at least the 12th century. Mehndi designs are nearly always applied to brides as part of preparation for weddings and for other celebrations. Designs are applied at the hands and feet, frequently extending up the wrists and ankles and beyond, like a glove or stocking.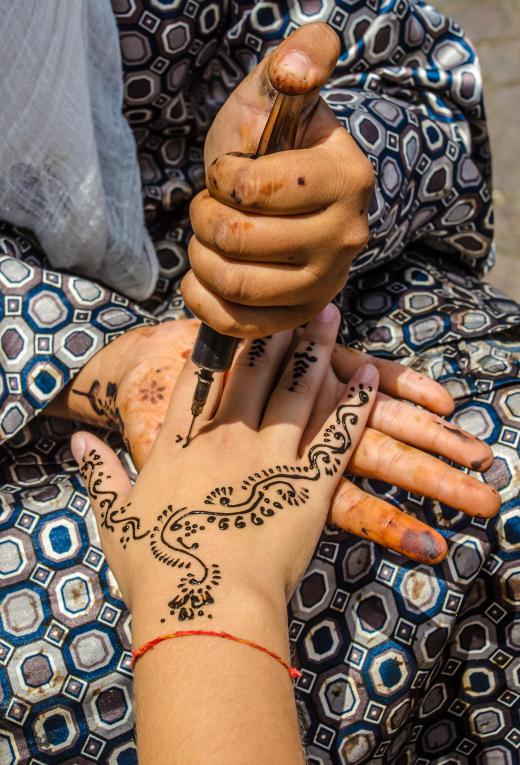 Mehndi designs in India and Pakistan are lacy, intricate and frequently floral motifs such as lotuses and curling vines. In Indian culture, flowers are said to represent joy, and lotuses represent the soul and its more positive and feminine aspects, such as creativity and beauty. Interspersed with Indian floral mehndi designs are teardrop shapes and paisley patterns, tying the composition together and following the natural lines of the body.
Arabic mehndi designs tend to be floral arabesques that mimic the organic, flowing patterns found in Middle Eastern textiles and on architectural surfaces. Stylized flowers are often repeated in geometric patterns that nearly completely cover the hand or foot. Modern Arabic interpretations incorporate more artistic license by using modern symbols. These designs are less about tradition than about statement and decorative effect.
Moroccan mehndi designs tend to have a symbolic meaning meant to protect a person from danger and to express love and concern. A Moroccan warrior going off to battle might have mehndi applied to his right hand as a protective symbol and reminder of his home life. During pregnancy, Moroccan women traditionally have protective symbols applied to their ankles as a sign of protection during upcoming labor and delivery. These frequently employ animal motifs for their perceived protective powers and ability to ward off evil.
With the popularity of mehndi in many parts of the world, non-traditional patterns have become more popular, including hearts, stars and other more western symbols. Some artists have expanded their color range by applying body paint in colors other than the henna brown color. Some apply gems and glitter paint to the skin for extra embellishment.
AS FEATURED ON:
AS FEATURED ON:

By: luisapuccini

Mehndi is the art of applying henna to the hands and feet.

By: videoroot

There are numerous designs of mehndi, which is a practice that uses henna to create temporary body art.