What are the Different Types of Medical Instruments?
There are numerous medical instruments that can be used to treat patients. These include stethoscopes, defibrillators, and forceps. The ailment and the type of medical professional determine whether or not it is likely a particular instrument will be used.
One of the most common medical instruments is a stethoscope. Many people mistakenly believe that stethoscopes are only used for listening to a person's heartbeat. A stethoscope can be used to listen to a number of internal sounds. These include pulse points and breathing. Stethoscopes are used by a wide range of medical professionals including nurses.
Tongue depressors are medical instruments used to control a patient's tongue. These can be used when the mouth, throat, or teeth need to be examined. They are usually inexpensive and designed for single use. Such items may be used by general practitioners, dentists, and specialists.
Another common medical instrument is a thermometer. It is used to determine a person's body temperature. Most modern models are digital, but glass models may still be found in some facilities. It is rare to find a general practitioner or emergency room staff member without access to a thermometer.
Defibrillators are electronic instruments used for life support. They provide electric shocks that can affect the heart. These devices are commonly misunderstood by the public. Many people believe that defibrillators are used only to restore hearts that have stopped beating. Actually, these instruments are also used in cases where the heart is beating abnormally.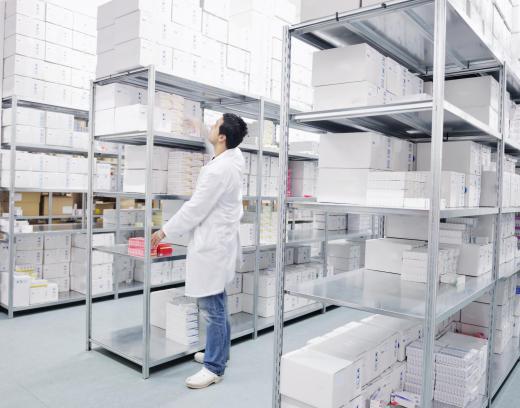 Patient monitors are also electronic medical instruments. These may appear similar to computer monitors or television screens, but they can be very important in the treatment of patients. A patient monitor is used to display various types of information about a patient, such as her vital signs or the severity of her contractions. These are commonly found in hospitals, but may also be found in some doctors' offices.
Forceps are medical instruments that can look similar to a pair of domestic tweezers. These instruments are often used during surgery. They can be used to grasp items such as soft tissue or blood vessels. They may also be used to remove matter that is stuck to or lodged into a wound.
Scalpels are also medical instruments commonly used for surgery. Scalpels are small knives, which are usually extremely sharp. They can be used to make incisions and dissect certain tissue.


By: iofoto

A scalpel is a common surgical instrument.

By: Rob Byron

Digital thermometers may be used for checking body temperature.

By: leelaryonkul

Medical instruments may include a stethoscope.

By: .shock

Every hospital has someone who is tasked with ordering and stocking medical instruments.