What Are the Different Types of Low-Sugar Desserts?
To reduce sugar content, recipes for many low-sugar desserts substitute sugar-packed ingredients for low-sugar or sugar-free ingredients. Low-sugar desserts are plentiful and are available in a variety of forms, including cookies, candies and cakes. Gelatin, pudding and pie can also be made in low-sugar versions. Other types of low-sugar desserts include bars and muffins.
A variety of bars are available in low-sugar options and many are made with vegetables, including nutty carrot cake bars, pumpkin almond bars and split pea bars. Some low-sugar desserts are flavored with citrus, including low-sugar lemon bars, citrus-hazelnut bars and almond-lemon bars. Oats and nuts are common in some low-sugar dessert bars, including no-sugar-added granola bars, which are made with oatmeal, walnuts and almonds. Other options include date and oat snack bars, oat bran bars and oatmeal fruit bars.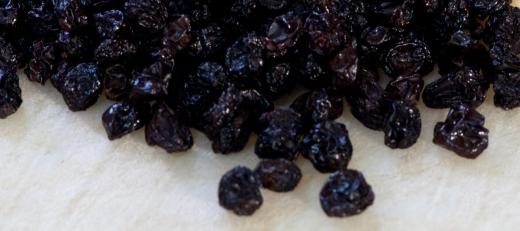 Ingredient substitutions, such as fruit juice, imitation sweetener and mashed fruit, allow many types of muffins to be made in low-sugar versions, including tropical muffins, coconut muffins and Caribbean muffins. Many types of fruits are naturally sweet and are featured in low-sugar desserts, including applesauce muffins, carrot-pineapple bran muffins and lemon poppy seed muffins. Blueberries, cranberries and peaches are also featured in some low-sugar muffins.
From heavenly angel food to black forest, there are many low-sugar desserts available in cake form. Berries, raisins and fruit are used to flavor assorted low-sugar desserts, such as lemon cake, blueberry cake and raisin cake. Some low-sugar cakes feature combinations of flavors, such as apple pumpkin cake, pineapple carrot cake and oatmeal chocolate cake. Vegetables also star in many low-sugar cakes, such as glazed carrot cake and pumpkin cake.
By adding a few ingredients to sugar-free pudding mixes, a variety of low-sugar desserts can be achieved. Applescotch pudding features sugar-free, instant butterscotch pudding mix and apple pie spice. Peanut butter pudding is made with skim milk, peanut butter and fat-free, sugar-free butterscotch pudding mix. Some puddings feature real fruit, such as the sliced bananas in banana toffee pudding and pineapple, coconut and mandarin oranges in mandarin pudding.
Low-sugar gelatin is available in a variety of flavors, such as pineapple, strawberry and lime, and can be paired with fruit and cottage cheese. Apple cherry gelatin salad gets it crunch from celery and walnuts, and strawberry gelatin pie has a crushed pretzel crust. Double-decker fruit salad features a layer of low-fat cream cheese mixed with orange juice, and a layer of fruit, including crushed pineapple and canned peaches.
AS FEATURED ON:
AS FEATURED ON:

By: BigDreamStudio

Raisins are a low-sugar desert.

By: eAlisa

Oats are often used to make low-sugar snack bars.

By: annamavritta

Lemon pudding can be made with less sugar because of the strong flavor lemon offers.

By: pilipphoto

Many fruits are naturally sweet and low in sugar.

By: baibaz

Granola bars can be eaten as a low-sugar dessert.

By: mitrs3

Unsweetened applesauce is a nutritious dessert.

By: stieberszabolcs

Puffed rice snack bars coated in dark chocolate can be eaten as a low sugar dessert.

By: CandyBox Images

Many low-sugar and diabetic desserts are made with fresh fruit.