What Are the Different Types of Low-Fat Sauces?
There are many different types of low-fat sauces, many made from naturally low-fat ingredients like tomatoes, broth and low-fat milk. Some sauces, like Alfredo sauce, can be made low fat by substituting the cream for half-and-half or low-fat milk, and adding low-fat or fat-free melted cheese and Italian spices. Spaghetti sauce is typically low in fat compared to other sauces, as long as the sauce does not contain meat like beef or pork. Low-fat sauces for desserts like caramel sauce or chocolate cause are generally made with water, low-fat cream or milk as well as fat-free flavor enhancers.
One of the most popular low-fat sauces is tomato sauce, as this versatile sauce can be used over spaghetti, lasagna, meatloaf and pizza, just to name a few. Tomatoes are naturally fat-free and low in calories, and are commonly used in low-fat cooking and recipes to add color, taste and bulk. Enchilada and other Mexican tomato sauces are typically low in fat as well, and include tomatoes, chili powder and cumin. Pumpkin sauce is an unusual pasta sauce that uses pumpkin, butter and cream, yet is often made into a low-fat sauce by using low-fat milk and a butter replacement.
Creamy Italian sauces like Alfredo sauce and cheese sauce are generally very high in fat and calories, contributing a high amount of saturated fat. Health-conscious cooks often replace the high-fat ingredients in these sauces with low-fat alternatives, like low-fat milk and cheese. Using chicken broth in these Italian sauces is also a great way to add bulk and flavor to the recipe without adding an unnecessary amount of fat. Most low-fat sauces like low-fat Alfredo sauce also contain extra salt, herbs and spices to make up for the lack of fat.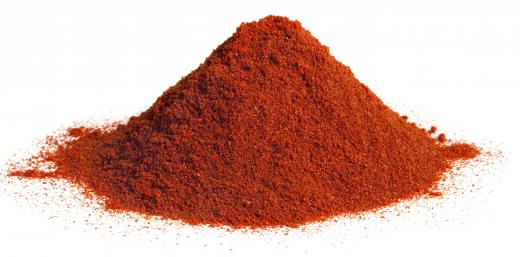 Dessert sauces like chocolate sauce or marshmallow sauce are often naturally low in fat, containing nothing but sugar, some water and added flavorings like chocolate or vanilla. Caramel sauce is often high in fat, yet some manufacturers do sell low-fat caramel sauce made without cream, butter or oil. Although low-fat sauces do contain fewer calories overall, many nutritionists still recommend that consumers watch salt and sugar intake when consuming these types of foods. Since fat can help add taste to a dish, many low-fat sauces may contain more sugar, salt or artificial flavor enhancers to increase the palatability of a low-fat food.
AS FEATURED ON:
AS FEATURED ON:

Waffles with low-fat chocolate sauce and confectioner's sugar.

Chili powder can be mixed with tomatoes and cumin to make a low-fat sauce.