What Are the Different Types of Life Scientist Jobs?
There are many different life scientist jobs available to people with education and background in the life sciences. Life science is a broad category and involves the study of all types of life forms, including plants and animals, as well as the molecular building blocks of life. Life scientist jobs, including those within the pharmaceutical industry, that involve work with viruses, bacteria, and other pathogens are also common. Most people who study the life sciences choose a specialty early on in their education because the field is vast and requires a great deal of knowledge.
Some of the life scientist jobs that are better known to those outside the field are jobs that involve the study of plants and animals. People can work in the life sciences as zoologists, botanists, or general biologists, who may study both, in order to better understand the natural world. These scientists also often work to develop better practices in agriculture, horticulture, and interaction between humans and the environment. The study of ecology and the environment also often fall to people with life scientist jobs.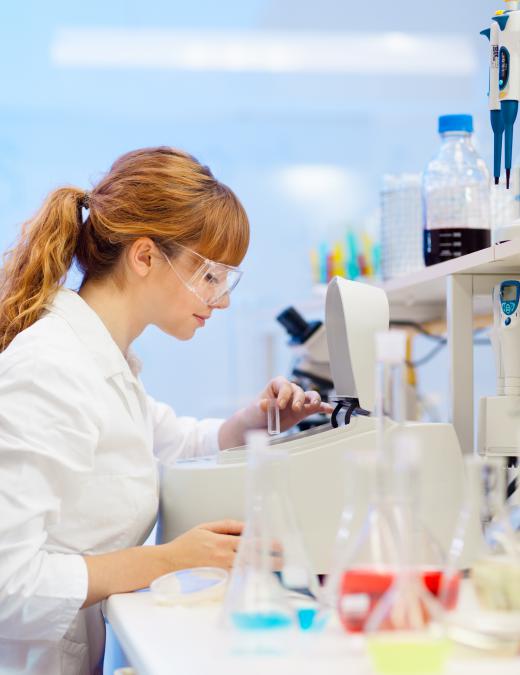 In addition to studying life forms that we can see with the naked eye, people with life scientist jobs may also study life forms that are microscopic. These can include eukaryotes, bacteria, and viruses and often consist of positions in fields related to medicine. Biochemistry and biotechnology are common fields for people with life sciences jobs who do research in order to find cures for diseases.
People who study the building blocks of life are often employed as biophysicists or molecular biologists as well. These scientists may examine the structure and behavior of proteins either within the system of a larger life form or in isolation. The study of deoxyribonucleic acid (DNA) and ribonucleic acid (RNA) is often done by molecular biologists. These studies have a number of different applications, including genetic engineering of plants and animals and the development of genetic treatments for various diseases.
While the majority of life scientist jobs are in research, there are also other types of jobs for people with a background in the life sciences. Teachers and instructors from elementary to university level work to impart their knowledge of the life sciences to the next generation of scientists and to help foster a scientific curiosity about the world in others. Artistic individuals with a background in life sciences may also work to create illustrations and three dimensional computer models of life forms or living structures.
AS FEATURED ON:
AS FEATURED ON:

By: kasto

A life scientist can conduct research in a lab.

By: Mila Supynska

Zoologists and biologists work with animals.

By: amenic181

Life scientist jobs within the pharmaceutical industry often involve the study of viruses, bacteria, and other pathogens.