What are the Different Types of Kitchen Island Cabinetry?
The different types of kitchen island cabinetry include open and closed shelving units as well as drawers. The combinations of shelves and drawers in kitchen island units are almost endless. Practically all varieties of wood are used for island cabinetry, as it typically is designed to match other kitchen cabinets.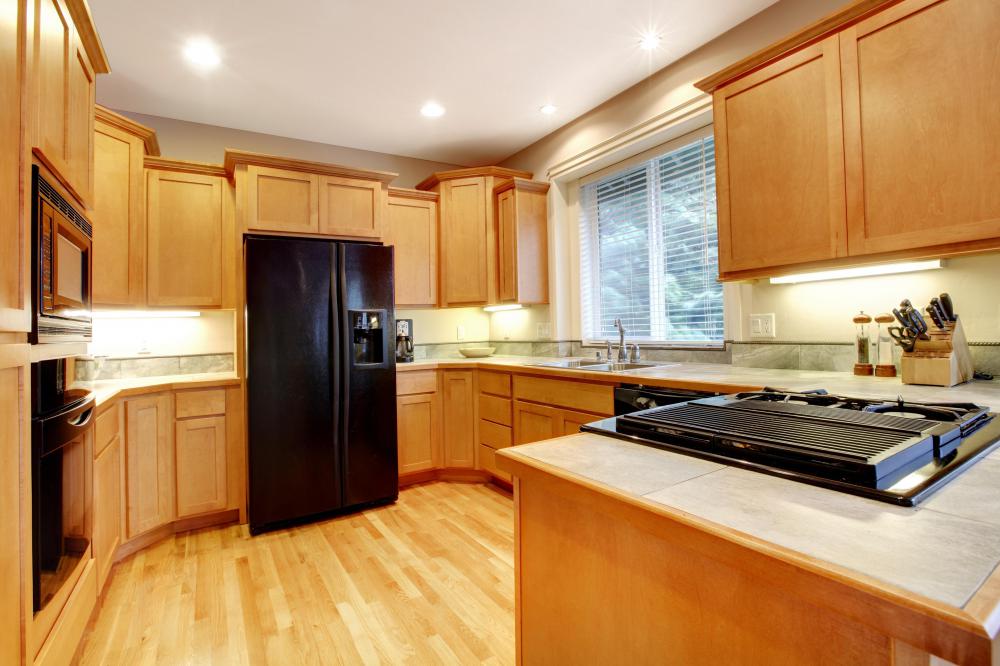 Cupboards in kitchen island units often feature drawers under the counter top and shelving below them. On one of the ends of the kitchen island, it's common for there to be open shelving to display kitchenware or cookbooks. The other end may feature useful storage accessories such as a kitchen towel bar or hooks or it may have more shelving or a wine rack. Some kitchen island cabinetry includes a wine refrigerator.
While some kitchen islands have mostly closed door shelving, others are mainly made up of different sized drawers. Some cooks prefer the ease of finding kitchen food preparation utensils, bowls and other items within drawers rather than having to crouch down to lower cupboard level and dig around at the back of shelves to get these. Having two rows of kitchen island cabinetry makes the shelves less deep, but the items need to be reached from eye level while the drawer storage method allows the cook to look down and see them.
Some types of kitchen island cabinetry feature glass rather than solid doors. More rustic cabinetry may not have any doors at all, but rather consist of open shelves. As country style kitchen decors often use many accent pieces, this type of cabinetry on an island allows plenty of room to display them.
A kitchen island may only have cabinetry on one of its longer sides if there is a breakfast bar counter attached to the other side. These types of kitchen islands offer room for bar stools to provide extra seating. A rolling kitchen island is usually smaller than other kinds, so the cabinetry on these models is usually limited to just a few cupboards and/or drawers.
Sliding door kitchen island cabinetry designs can be an excellent choice for smaller kitchens as they take up less room. Regular, hinged cupboard doors on a pantry may block a kitchen pathway when they are opened in a smaller kitchen. This may be a problem if the kitchen is a high traffic area. With sliding door kitchen island type of cabinetry, this problem is avoided.