What are the Different Types of Isotonic Exercise?
There are various types of isotonic exercises that a person can engage in. One of the oldest and simplest forms of isotonic exercise is weightlifting. The term isotonic means creating constant or equal amounts of pressure. Thus, when weights are lifted, the amount of tension exerted remains constant while the muscle performing the action extends or contracts. Even though the weight involved in an this type of exercise is unchanging, the speed at which an exercise is completed can fluctuate.
Weight lifting is a form of isotonic exercise, since the weight remains the same even though the muscle lifting the weight contracts. Push-ups, pull-ups, and sit-ups are all types of isotonic exercises as well. Generally, these exercises are combined with a complete fitness routine in order to help a person reach a personal fitness goal. These types of exercises are also preferred by physical therapists who are attempting to help a person regain strength in one area of the body.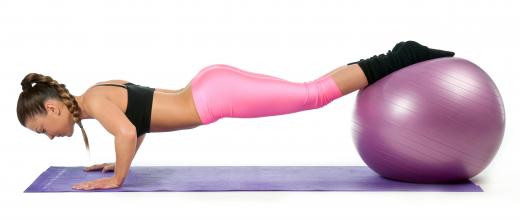 It is not recommended that anyone attempt any kind of isotonic exercise after experiencing a traumatic injury. In this instance, the help of a certified physical therapist is necessary. While exercises of this kind are do not have to be difficult, an injured muscle can become even more damaged if not tended to carefully.
While it is possible to create an exercise program by reading about different exercises, it is best to seek the assistance of a personal trainer, therapist, or coach before embarking on this type of muscle building routine. Nearly every part of the body can be strengthened with the help of a specific isotonic exercise. This is one of the main reasons why physical therapists prefer this type of exercise to any other kind. Pinpointing individual muscles through constant muscle conditioning is difficult to do without the help of a professional, though isolating any muscle is the best way to create an exercise of this type.
In most instances, people who partake in this type of strength training do not use weight machines. Instead, dumbbells, or free weights, are preferred by individuals and trainers alike. When performing any exercise, it is not a good idea for people to lift weights that cause a person to sway or swing. It is also wise to seek the approval of a medical doctor before performing any kind of new weightlifting routine. This is especially true for those people who suffer from chronic medical conditions.
AS FEATURED ON:
AS FEATURED ON:

By: bertys30

Push-ups are one form of isotonic exercise.

By: milanmarkovic78

Pull-ups target the back muscles.

By: Andrew Lever

Body-weight lifting can be a form of isotonic exercise.

By: Zai Aragon

Sit ups are a type of isotonic exercise.

By: Syda Productions

Isotonic exercise is not recommended for people with injuries.

By: pio3

Weight lifting is considered an isotonic exercise, as the weight remains the same while the muscle lifting the weight contracts.

By: aceshot

Physical therapy programs may utilize light isotonic exercises.

By: z3zo

It is not a good idea for individuals to lift weights that cause them to sway or swing.