What Are the Different Types of Interest-Bearing Checking Accounts?
Interest-bearing checking accounts exist for individual consumers, small businesses, and larger corporations. Financial institutions may offer a variety of interest rate structures based on a customer's minimum average balance, withdrawal activity, and number of accounts held with the same bank. The majority of these types of checking accounts earn a small percentage of interest on the average daily balance, which can fluctuate with monthly deposits and expenses. Money market accounts are an additional type of interest-bearing bank account that some consumers use for both checking and savings purposes.
Many banks structure interest-bearing checking accounts in a similar fashion to non-interest bearing accounts. One of the most common types is a basic or minimum deposit checking account. With this type of consumer product, an individual can open up an account with a small deposit and earn a minimum interest rate per month. Consumers typically have access to features such as online bill pay, debit cards, ATMs, check writing and direct deposit privileges.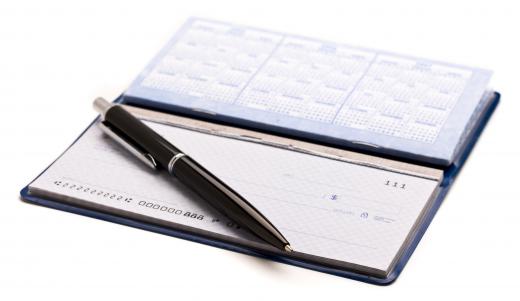 Financial institutions usually offer a high yield interest checking account to consumers who maintain larger than average balances. A consumer's checking account may also qualify for a higher interest rate if he establishes several accounts with the bank, such as a credit card, money market account, certificate of deposit, or a car loan. High yield interest-bearing checking accounts will typically require a consumer to meet certain eligibility standards, including high minimum opening deposits, withdrawal restrictions, and high average daily balances.
Account holders may be charged a fee for falling below a minimum balance when they maintain consumer or business interest-bearing checking accounts. Banks might cater to small businesses and non-profit organizations by waiving monthly maintenance and check ordering fees in exchange for minimum monthly and daily balances. Small business interest checking accounts also have to meet certain monthly deposit and withdrawal restrictions. These amounts are usually established by the bank's policies and fall within an appropriate range, given market conditions and the bank's willingness to take on risk.
Similar to consumers who maintain high average balances, larger corporations may qualify for a higher rate on their interest-bearing checking accounts. In some cases, large businesses might maintain more than one checking account due to balance limits for national insurance protection against bank failures. Besides a higher interest rate, add-on services offered to these customers could include online payroll and accounting tools.
Money market accounts are other types of interest bearing bank products that allow consumers to make deposits and withdrawals. While check writing privileges usually come with this type of account, they are usually restricted to a very small amount. If the withdrawal amount is exceeded, penalties or fees may be charged.
AS FEATURED ON:
AS FEATURED ON:

Checkbook.