What Are the Different Types of Hydrating Lotion?
A hydrating lotion is a substance that is used topically on the face and body. It is known to hydrate by enveloping the skin in a moisturizing film, effectively enhancing the water content on the surface of the skin. The lotion will usually come inside of a jar or bottle, and most types come formulated with an oil, a humectant, or an emollient.
Some hydrating lotions are formulated with an oil that will help lock in the moisture on the surface of the skin, retarding the formation of dry skin. Jojoba oil, coconut oil, and olive oil are popular choices formulated in hydrating creams, as they are known to naturally mimic the sebum that is produced by the skin. Not only are these type lotions very beneficial for dry skin, but they can also help soften wrinkles in more mature skin types.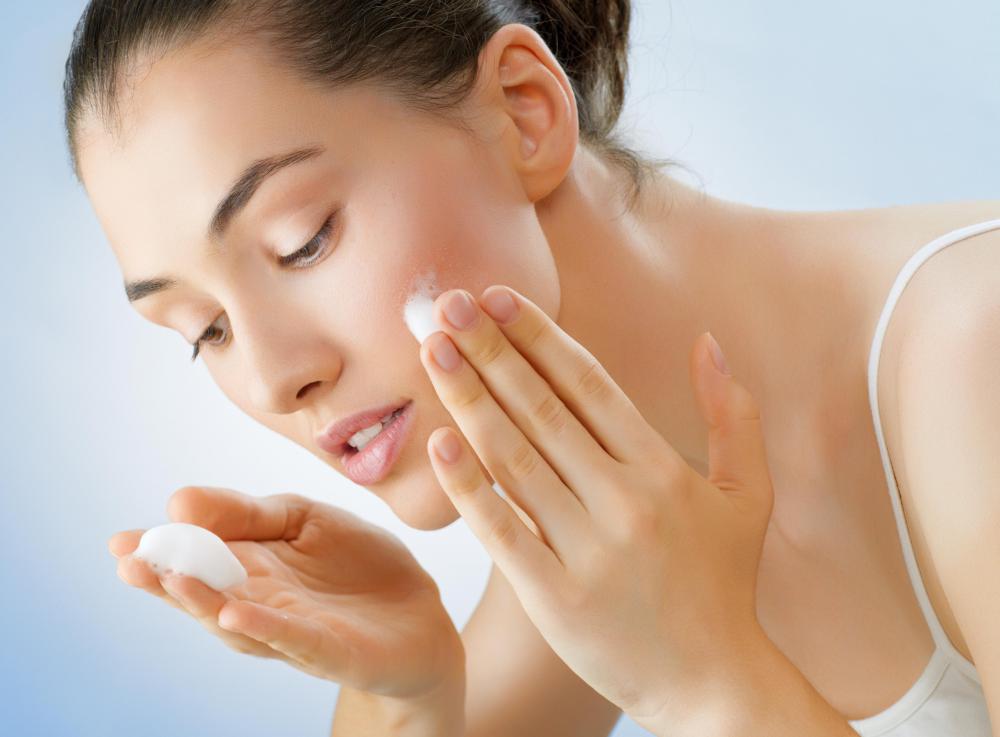 Humectants are also a special feature found in some hydrating lotions. Ingredients that have humectant properties work by absorbing moisture via the air. These types of hydrating lotions tend to be lightweight, which can benefit skin types that are marked by excessive sebum production. Aloe vera, glycerin, and wheat proteins are humectants commonly used in hydrating lotions. Humectants can also be called hydrating boosters, since they can increase the efficacy of other moisturizing ingredients.
A hydrating lotion designed to be used in the under-eye area tends to to be formulated with an emollient ingredient. Emollients are medicinal substances that are able to increase the moisture levels on the skin. An under-eye cream uses moisture-rich ingredients like cocoa butter or shea butter to retain moisture. These ingredients also tend to have high fat content levels, which can help to hydrate the skin. A hydrating lotion can benefit the eye area, as it tends to be void of sweat glands and sebum production.
Some hydrating creams are formulated with an alpha-hydroxy acid in it. Alpha hydro acids are organic compounds that chemically exfoliate the skin without the use of a harsh mechanical exfoliator. The moisturizing emollient base in the hydrating lotion will envelop the skin, allowing the alpha-hydroxy acid to dislodge uneven skin cells. The hydrating lotion will help ward off excessive dryness that can occur from the exfoliating action, especially in sensitive skin types. These types of creams can be especially beneficial for acne on the back, as alpha-hydroxy acid is known to help purge bacteria in clogged pores.
By: alexmisu

Coconut oil can help to relieve dry skin.

By: Konstantin Yuganov

Hydrating lotions can help improve the water content on the surface of the skin.

By: Africa Studio

Some hydrating creams and lotions contain alpha-hydroxy acids.

By: Vera Kuttelvaserova

Hydrating lotions can help soften wrinkles.

By: Daria Filiminova

Both retinol and alpha hydroxy acids have anti-aging properties that can improve the skin's appearance.