What Are the Different Types of Home Theater Plans?
A home theater can be as basic as a high-definition television (HDTV) and a couple of extra speakers. There are a variety of home theater plans that can take the space to many different levels. These plans can include a large television (TV) or even a projector and medium for pictures to be projected onto. Audio systems, different seating arrangements and kinds of furniture, as well as interior design and lighting are things to consider when building a home theater. Other elements of media room décor include cabinets and ways to organize cables, in addition to which room of the house will be used.
There are many plans that go into the overall design of a home theater. The types of home theater plans vary depending on the size of the screen and the distance and angle of optimal viewing. Home theater plans can include a 27 inch (about 68.6 centimeters) TV and a kit that adapts the media to the sound quality of a theater. For this, a couple of chairs and a couch complete the entire system. The size and shape of the room influence how more sophisticated designs can be planned out.
Home theater plans can feature much larger TVs with high definition and even three-dimensional pictures. In addition to a projector for certain plans, the kind of audio equipment can significantly affect the quality and cost of the system. Audio visual receivers, surround sound systems, and extras like loudspeakers or a sub woofer create a sound distinct to a movie theater. With this comes the need for soundproofing the walls or even installing insulating carpet. Specific soundproofing materials may be needed depending on the intensity of the sound and the proximity of the home cinema to other parts of the house.
Lighting is another factor to consider. It should be of the appropriate brightness such that the screen is viewable. Lights also add to the wiring in the room as well, so cabinets or tubes that keep wires out of the way are often beneficial.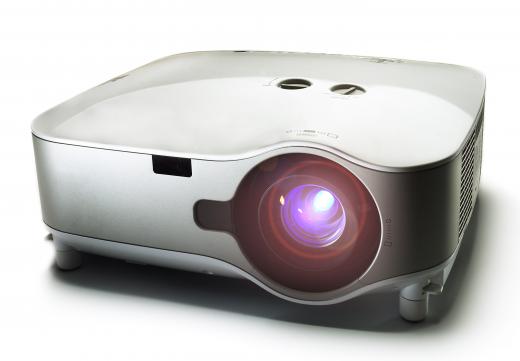 Home theater plans also consist of where the seating will go, and the type of furniture that will be used. For maximum comfort, recliners are suitable options, but seats with high backs are generally used in a home theater. The type of media player is also part of the design plan, which can include a compact disc player, digital video recorder, satellite TV connection, or an Internet-enabled TV or device.
AS FEATURED ON:
AS FEATURED ON:

Acoustic foam for soundproofing.

By: M S

Some home theater systems use a projector.

By: Pavlo Vakhrushev

Home theaters can include large TV screens and several audio components.

By: Jacques

Thick speaker cables may help ensure a good, clean sound.

By: Alessandro Capuzzo

An electric projection screen is dropped down by a motor.

By: ludmilafoto

The most important parts of home theater plans are the size of the screen and placement of the speakers.

By: ep stock

Home theater plans can vary based on factors including number of speakers, the size of the TV screen, and number of seats installed.

By: Elenathewise

Home theater plans also consist of where the seating will go, and the type of furniture that will be used.