What Are the Different Types of Home Office Executive Desks?
The different types of home office executive desks include pieces in a wide array of materials and styles. There are antique as well as modern types of executive desks suitable for a home office. Although an executive desk typically offers ample storage space, the type of storage can vary widely.
For instance, a custom-made executive desk may include a computer panel made to measure. High-end, luxurious home office executive desks often include locking drawers as well as an extensive side unit for extra desktop room. Fine hardwood desks may be made from mahogany or oak. Others are created from more exotic wood that can make an executive desk stand out as a focal point in the decor of a home office.
Antique executive desks may have details such as brass knobs or carved trims. They are typically made from hardwood. Modern home office executive desks are more streamlined and may be of solid wood or veneer.
Veneers have only an outer layer of wood that is glued to other materials, and these home office executive desk styles tend to be much less expensive than solid wood varieties. Some modern executive desks feature a glass top and a metal rather than wood base. These styles can add an airy spacious look to a home office.
Ergonomic executive desks are made to be adjustable to a person's height. The desk top and keyboard sections can be adjusted to permit the wrists to lay flat to help prevent conditions such as carpal tunnel syndrome. If there is too much pressure on the wrists, the nerve that reaches from the forearm to the palm can become damaged, resulting in carpal tunnel syndrome. For this reason, executive and other desks designed to help prevent the condition are popular types of home office furniture. Some of these modern customizable types of home office executive desks are approved for use with a wheelchair.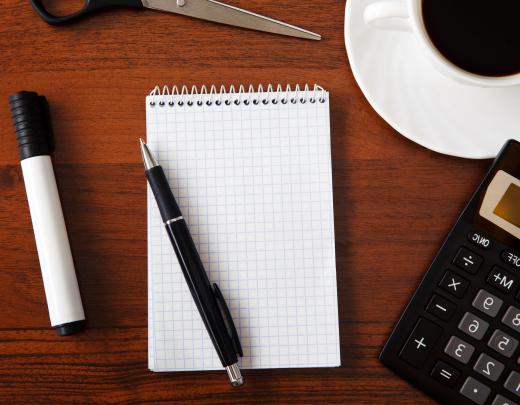 As executive style desks are typically very large no matter their style or materials, a workspace at home needs to accommodate these bulky pieces. Yet, with their tendency for many storage drawers, all types of home office executive desks can add a grand sense of presence while keeping office supply clutter out of sight. To take up less room in the home, some kinds of executive desk are built to fit into a corner. Another kind of space-saving home office executive desk features a raised glass top to store office items both above and below it.
AS FEATURED ON:
AS FEATURED ON:

By: Iriana Shiyan

A desk is an essential requirement for a home office.

By: serkucher

A home office executive desk should have enough tabletop space to accommodate office supplies.

By: WavebreakmediaMicro

The computer and keyboard on a home office desk should be arranged properly to help prevent the user from experiencing carpal tunnel syndrome.