What Are the Different Types of Healthy Casserole?
Healthy casseroles typically include dishes made using low-fat, high-fiber ingredients. Many are vegetable-based, but it is possible to prepare a healthy casserole using meats. In most cases, the leaner the meat, the healthier the dish will be. Chicken and ground beef are two of the most popular choices for meat-based casseroles.
Some of the more popular vegetable-based casseroles are made using green vegetables as a base. These vegetables are usually high in iron and fiber and low in carbohydrates, both of which make them excellent choices for a healthy casserole. This type of dish would typically include the vegetable base, along with various cheeses, butter or margarine, and some type of creamy soup and breading. In most cases, in order for the casserole to hold together, recipes call for the addition of two beaten eggs. Other popular healthy vegetable choices include squash, carrots, and peas.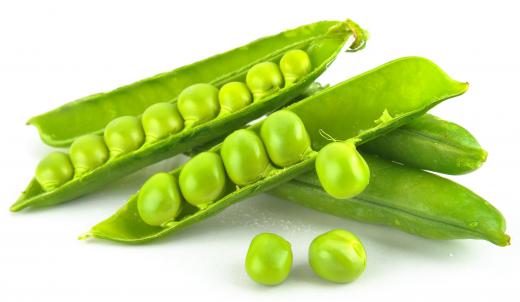 A healthy casserole using meat as a base ingredient would typically require the use of lean meats, as these cuts are high in protein yet low in fat. Chicken casseroles using white cuts of meat are very popular. In most cases, added ingredients for meat casseroles are similar to those with vegetable bases. Risk of salmonella is fairly high in chicken dishes, so the meat should always be cooked before using.
Ground beef is another popular base for many casseroles, but because of the fat content, it can be a challenge to make a healthy casserole using it as a base. It is a good idea to use leaner cuts such as ground sirloin or ground round and avoid chuck and other fattier types of beef. The meat should be cooked thoroughly before adding to the other ingredients. Not only does this decrease the risk of bacteria from undercooked meats, but also it allows the fat to be drained — both of which should result in a much healthier casserole.
Taking a basic casserole and transforming it into a healthier recipe only requires applying a bit of common sense. Casserole recipes that call for two eggs can often be made using only one, and since some studies show that eggs may contribute to high cholesterol, reducing the egg content will likely result in a healthier dish. When choosing butter or margarine, it is best to go with brands that are low fat, and if possible, reduce the amount called for in the recipe. In most cases, this will not adversely affect the recipe, but it will significantly lower the fat content. Another good tip for a healthy casserole would be to use fresh ingredients rather than frozen or canned, as this will ensure that the dish is free of food additives.
AS FEATURED ON:
AS FEATURED ON:

By: sevenk

Green peas are a common addition to healthy casseroles.

By: Lulu Durand

Vegetables may be served as a casserole dish.

By: Comugnero Silvana

Baked fish can be topped with a low-fat version of béchamel sauce.

By: mrslevite

Cheesy zucchini casseroles can be healthy and enjoyable.

By: Bronwyn Photo

Slices of ham can be added to a cheesy cauliflower casserole to make a complete meal.