What Are the Different Types of Health Gadgets?
Technological innovation goes hand in hand with the medical and health industry, literally creating the backbone for some medical sectors. Health technology supports everyone from the fitness guru and the elderly who seek independence to the surgeons who are dependent on technological innovation. More of the common health gadgets that are readily available to consumers are the pedometer, the power chair, and the personal safety pendant. More comprehensive health gadgets can be found in a doctor's office, which include a sphygmomanometer and x-ray machine.
The pedometer is a popular gadget that is commonly carried by fitness junkies and sports enthusiasts. These health gadgets record the number of steps that a person takes during his or her exercise regimen. Pedometers work by sensing the motion of moving limbs. Some of the more expensive pedometers will come with a strap that can be attached to the chest, allowing the pedometer to record heart rate and even the calories that are being burned. These are very beneficial for those who want a device that will allow them a means to measure their weight loss efforts.
Health technology has also been able to restore the confidence and independence of the elderly. The traditional wheelchair has been revolutionized to electric, customizable power chairs. Power chairs are fixed with an engine, allowing the elderly or people who are physically disabled a chance to travel short distances with very little assistance.
Another technological innovation that caters to the elderly demographic is the personal safety pendant. Elderly individuals who are in danger of falling, tripping, or having accidents can call for help with this health gadget. A personal safety pendant is strapped around an individual's neck or also comes in a watch form, allowing him or her to contact the paramedics if he or she is unable to get to a phone in time. Most personal safety pendants are light-weight, convenient, and unobtrusive.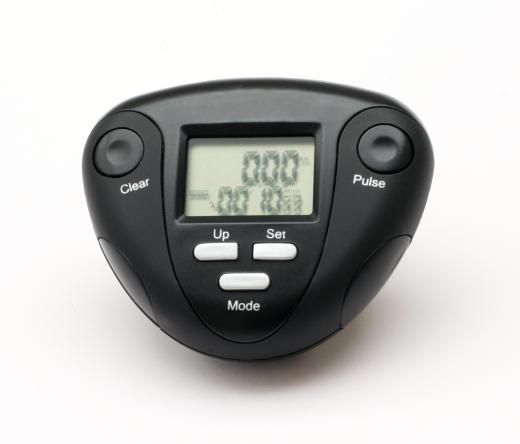 More powerful health gadgets are found in a doctor's office. A sphygmomanometer, or a blood pressure meter, can be usually found tucked in a corner. The sphygmomanometer measures blood pressure by constricting a limb, usually an arm, and measuring the pressure pumping through the veins. Versions of these have also appeared in drug stores in the United States for convenient self-checks.
AS FEATURED ON:
AS FEATURED ON:

By: Izaokas Sapiro

A nursing assistant checking a person's blood pressure with a sphygmomanometer.

By: soundsnaps

A pedometer.

By: riccardo bruni

Health technology has been particularly helpful for elderly seeking independence.

By: auremar

The traditional wheelchair has been revolutionized to electric, power chairs that can be customized for the individual.

By: Monkey Business

Paramedics may use an axis accelerometer to measure the depth of chest compressions during CPR.

By: Shooter

Health gadgets can be used to help monitor the elderly.

By: jovannig

X-ray machines can be used to examine a patient's bones and some internal organs.