What are the Different Types of HDMI® Adapters?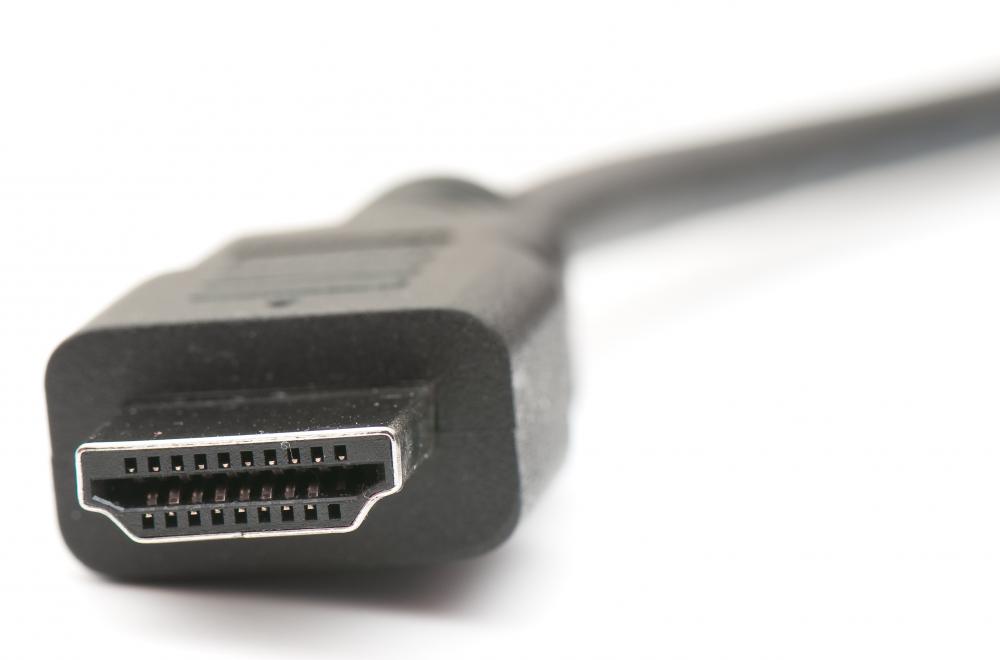 There are many different types of High-Definition Multimedia Interface® (HDMI®) adapters available to convert, adapt, switch and split HDMI® signals to various other formats. The main function of these adapters is to allow a non-HDMI® device to be connected to a display with an HDMI® output, or vice versa. Many of them, such as Digital Visual Interface (DVI) and Video Graphics Array (VGA), are designed specifically for the various outputs that are commonly found on computers. Others, such as video game systems and DVD players, are geared more toward home video products and video game systems.
Some of the most common HDMI® adapters are VGA and DVI adapters. VGA and DVI are common outputs for home computers and these HDMI® adapters make it possible to connect a computer to an HDTV that has an HDMI® port. People can use them to watch content streamed to their computer on their HDTV. Another common adapter used with computers is a HDMI® to USB adapter. This enable users to connect their computer to an HDTV even if they don't have a spare VGA or DVI port.
HDMI® adapters are also used when hooking up devices such as DVD players and video game systems to an HDTV. They are often used when the number of devices is greater than the number of available ports on the television. For example; a person may have two video games systems and a DVD player that all have HDMI® ports, but their TV may only have two HDMI® ports and a component port. An HDMI® to component adapter allows that person to connect the HDMI® device to their television's component port, usually with no noticeable loss in quality. Similar devices are HDMI® switchers, which are sometimes called splitters. These are first connected to a TV via an HDMI® port and then to each video game system and media player. The adapter can switch between devices based on which one is being used at the time. This allows multiple devices to share a single HDMI® port.
There are also HDMI® adapters that connect older, non-HD devices to HDMI® outputs. These can be adapters for coaxial able, RCA cable or Syndicat des Constructeurs d'Appareils Radiorécepteurs et Téléviseurs (SCART), a common connector in Europe. They can be used to connect non-HD devices, such as older video game consoles and VCRs, to HDTVs via an HDMI® port, or to connect HD devices to an older TV. Some adapters are also made for specific video game systems that may not support HDMI®.
A HDMI® cable.

HDMI® adapters are also used when hooking up devices such as DVD players and video game systems to an HDTV.