What are the Different Types of Hand and Body Cream?
Hand and body cream moisturizes and smooths skin while often leaving a more natural glow. Creams differ from lotions in that they are usually oilier. The main types of hand and body cream are whitening, acne, night and anti-aging.
Anti-aging hand and body cream is designed to reduce lines and wrinkles in the skin. Many of the anti-aging creams contain a skin rejuvenating ingredient called retinol. Retinol is the animal-based form of vitamin A. Anti-aging creams are usually used daily to improve the appearance of the skin. Glycolic acid, a sugar cane derivative, is used in many anti-aging creams as it soaks into skin to remove dead layers and gives a fresh new appearance.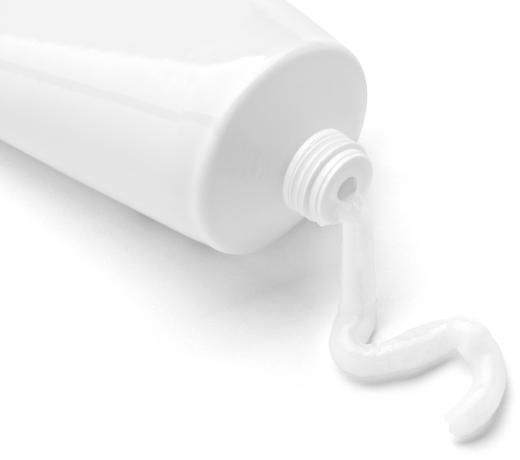 Night creams are applied in the evening before sleep. They are often considered best for reducing the appearance of fine lines in the skin. Some night cream products are too harsh for those with sensitive skin, as they may cause a burning feeling. People with sensitive skin should look for a mild hand and body cream to leave on during the night.
Acne creams are designed to reduce the inflammation of skin pores. Acne is inflamed, infected skin. Pus-filled bumps and pimples break out on the skin due to clogged pores. Acne creams are usually a face cream although some are made for use on the chest or back. Acne affects primarily the face, but the chest and back are problem areas for some people.
Acne creams and other types of body and hand cream are made for different skin types. Oily skin is especially prone to the irritated, clogged skin pores which make up acne. Whereas oily skin has large pores, sensitive skin is delicate. Sensitive skin tends to be dry and is prone to tightness, flakiness and rashes. Normal or combination skin is smooth with an even texture and color; the cheeks are usually drier than the forehead.
Hand and body creams with oils such as macadamia nut oil can help moisturize as well as remove dead skin cells. Whitening hand and body cream is made to brighten the skin by creating a lighter appearance. While some whitening creams may help remove age spots and give skin a glow, bleaching creams may be quite harsh. Some whitening skin creams are designed to cover blemishes rather than fade them.
If a hand and body cream used for whitening the skin contains hydroquinone, it may be best to avoid it. Hydroquinone is thought to possibly cause the body to create lower amounts of the natural pigment melanin. There also is a possibility that hydroquinone could be linked to skin cancer. Hydroquinone is inexpensive and may be found in cheaper creams; purchasing quality skin products is important.


By: picsfive

Body cream.

By: picsfive

Skin moisturizing creams are often sold in portable tubes.

By: Martinan

Creams can be used to heal dry hands.

By: Robert Kneschke

Retinol face cream may help reduce the appearance of wrinkles.

By: Photographee.eu

Some whitening hand and body creams are designed to cover blemishes, rather than fade them.