What Are the Different Types of Greek Dipping Sauce?
With an abundance of healthy breads, vegetables, and kebabs in the cuisine, it is only natural that many different types of Greek dipping sauce recipes exist. Using the full range of Greek and Mediterranean ingredients, a Greek dipping sauce can be light and flavorful, or thick and creamy. Some of the most popular types of dipping sauces used in Greece include tzatziki sauce, tyrokafteri, potato dip, and hummus. If few ingredients are on hand, remember that simple herbs steeped in fruity olive oil make a perfect Greek dipping sauce in next to no time.
Tzatziki is one of the most famous dips popular in Greek cuisine. This creamy Greek dipping sauce uses a base of plain yogurt, preferably a thicker, more dense variety that may be sold as Greek yogurt. To make tzatziki, combine yogurt in a blender with chopped cucumber, fresh or dried dill, and olive oil. Traditionally, tzatziki also contains quite a lot of garlic, but this can be reduced to taste. Served cold, tzatziki is a perfect, low-fat dipping sauce for pita and fresh crudites.
Tyrokafteri is a warm Greek dipping sauce that uses a cheese base. For the cheese component, consider using sheep's milk feta or ricotta, or a blend of these cheeses with Green yogurt. To this mixture, hot peppers are blended in to taste, along with black pepper and paprika. Tyrokafteri can be served cold, but can also be baked in a small ceramic dish, and served piping hot alongside toasted bread. For extra flair, pour a small amount of Greek liqueur, such as ouzo, over the top, then set alight just before serving.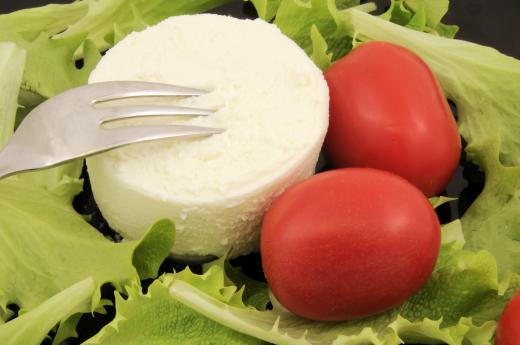 Potato dip is an unusual type of Greek dipping sauce that uses a boiled potato as the basic ingredient. Once the potato is soft, it can be mashed and mixed or blended with nuts, bread crumbs, lemon juice, and garlic for a vegan-friendly dip. Potato dip is extremely versatile, and experiments with different nuts and flavoring agents can be worthwhile. In addition to being an excellent dip, this thick sauce can be wonderful as a sandwich or crostini spread.
Though hummus is not strictly Greek in origin, it has been adopted into the cuisine as a popular dipping sauce. This hearty dip blends chickpeas with olive oil, garlic, sesame seed paste, and lemon juice for a flavorful spread or dipping sauce. To make hummus a little more Greek, blend with a Greek olive oil, or add pitted kalamata olive or hot peppers to the mixture. Though hummus is excellent on bread or pita chips, it makes a wonderful centerpiece to an appetizer dish of olives, feta cheese, pickled vegetables, and fresh bread.


By: Viktor

Tzatziki sauce typically includes dill weed, along with yogurt and cucumbers.

By: margo555

Like most Greek dipping sauces, tzatziki is made with olive oil.

By: Colinda McKie

Greek dipping sauce may use Greek yogurt as a base.

By: Roberto Fasoli

Ricotta cheese can be used to make a low-fat Greek dipping sauce.

By: anjelagr

In Greek cuisine, potato dip is made using boiled potatoes and various spices and other additions.