What Are the Different Types of Greek Appetizers?
Greek appetizers, also called mezze, are small plates meant to be savored and enjoyed throughout a meal. There are dozens of different types of Greek appetizers, including some which draw on Middle Eastern and European cuisine. Some of the most popular mezze include bread and dips, cheese dishes, pastry-encased snacks, and grilled or baked meats and vegetables.
Bread and dips are an essential part of any Greek appetizer feast. While lavosh, crackers, or sourdough may be substituted, the traditional bread to serve with mezze is pita bread. This thick, layered bread makes a good base for spreads and can be used to create delicious wraps. For extra flavor, try grilling pita or another bread of choice for a minute or two, or placing under a broiler for a minute on each side.
The dips that accompany breads may be creamy, tangy, or rich in flavor. Hummus, a Middle Eastern dish made from blended garbanzo beans, sesame seed paste, and lemon juice is an excellent dip that often finds its way to Greek tables. Tzatziki sauce is a tart and refreshing blend of yogurt, cucumbers, olive oil, and garlic. To showcase Greek olives at their finest, try an olive tapenade of finely chopped green and kalamata olives. Putting together a simple plate of grilled breads with several dips is a wonderful way to serve simple Greek appetizers with style.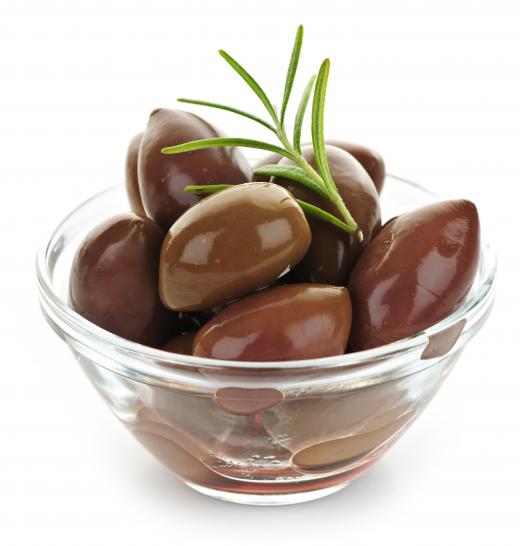 Cheese is an important part of Greek cuisine, and shows up in many different styles for Greek appetizers. A simple plate of sliced feta, olives, and grilled pita may be an ideal appetizer spread for a light lunch or small party. One unusual Greek dish is fried cheese, in which kasseri cheese is dredged in flour, pepper and lemon juice, then fried in olive oil until crispy. Since the cheese doesn't melt easily, the crisp outside of the cheese easily encases the softened, tangy inside.
Filo dough, a thin, oily pastry, is the base for many different Greek appetizers. Perhaps the most famous Greek savory pastry is spanakopita, a combination of spinach, herbs, and cheese sealed inside dozens of layers of the flaky filo. Ricotta and feta cheese can also be similarly combined in small filo packages to make tiropita, or cheese pie.
Greek appetizers using meat often involve the strong heat and flavor of a grill. Kebabs, which are skewers of meat often marinated in a light sauce, can make an excellent appetizer that can feed a crowd. Kebabs are often made using chicken or lamb, but other meats, such as meatballs or steak, can be used as well. Grilled vegetable kebabs can also be concocted with chunks of mushrooms, zucchini, and feta for vegetarian guests.
AS FEATURED ON:
AS FEATURED ON:

Fried calamari.

Kalamata olives.

Zucchini, which is often used in making Greek appetizers.

By: Nika Novak

Garbanzo beans, which are used to make hummus.

By: Richard Villalon

Olive tapenade made with black olives.

By: vetasster

Pita is the traditional bread to serve with mezze.

By: Colinda McKie

Tzatziki dipping sauce is prepared from a base of yogurt.