What Are the Different Types of Geriatric Assessments?
Geriatric assessments, which are tests performed on elderly patients, often include evaluations for depression or psychological disturbances. Geriatric mental health testing may be performed at clinics or by a private physician. Elderly patients with dementia often undergo short-term memory tests. A physician may also perform geriatric assessments on a patient as part of routine medical care. Examples of routine geriatric assessments include hearing and eye examinations, as well as testing for heart-related problems.
Elderly patients with medical conditions or mental health issues may require geriatric assessments that are targeted for his particular case. These assessments differ from the comprehensive routine examinations given to patients on a regular basis. For instance, a patient with urinary incontinence may require an assessment to determine the cause and treatment. Geriatric assessments for patients with diabetes may help doctors understand how the disease impacts various functions in the elderly. The goal is to find solutions to provide a better quality of life for elderly diabetes patients.
Psychological assessments are a major part of geriatric evaluations. Clinical trials and studies in nursing homes may be conducted as part of this process. Studies can determine how depression or lack of social interaction may influence an elderly individual's overall health.
It is not uncommon for the elderly to undergo geriatric assessments for in-home care. These evaluations can help provide better management for seniors who wish to remain independent while living alone. Recommendations may also be offered to elderly people regarding home safety.
Many elderly people are at risk of suffering serious injuries due to accidents in the home. Accidents from falls cause more life-threatening injuries to the elderly than any other in-home accident. Many of these accidents are preventable, though a professional evaluation may be recommended in some cases. Geriatric assessments for falls can determine if someone is at risk. Caregivers can then implement strategies to prevent such an occurrence.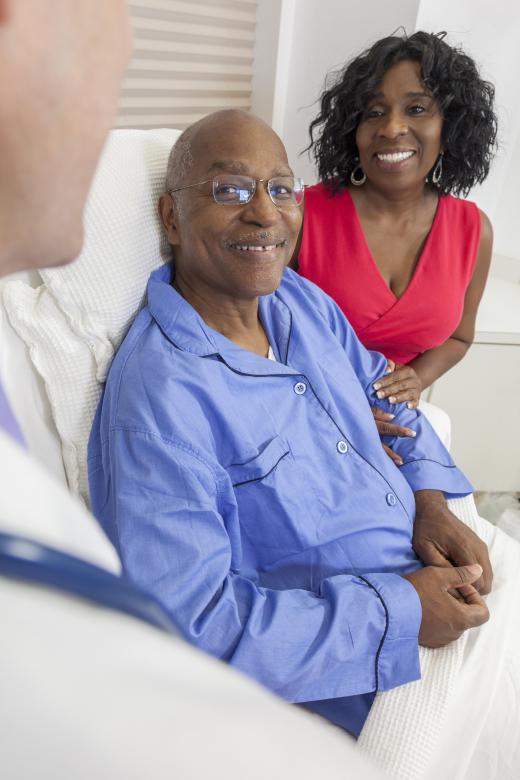 Dental problems in the elderly are fairly common. Assessments for oral hygiene can determine if an elderly person is able to maintain proper oral health. In addition to various questions, the patient or caretaker may be asked to complete an oral health status report. The report will record the frequency of tooth brushing and flossing, as well as dental implements used. As part of the assessment, difficulties in maintaining oral care will be noted.
Lack of proper nutrition can be a concern for many elderly people. Nutritional geriatric assessments also provide the tools necessary to maintain proper nutrition. These assessments can pinpoint nutritional deficiencies impacting a patient's health. An evaluation may also provide caregivers with an understanding of the patient's nutritional needs.
AS FEATURED ON:
AS FEATURED ON:

By: WavebreakMediaMicro

Geriatric physicians work with older patients.

By: Tyler Olson

Geriatric assessments often include evaluations for depression.

By: spotmatikphoto

Geriatric professionals need good empathy and listening skills when assessing elderly patients.

By: GordonGrand

Playing with children may help lift the spirits of an elderly person suffering from depression.

By: Grafvision

Some certified nutrition specialists work with elderly patients to ensure that they eat nutritious meals on a regular basis.