What are the Different Types of Fingerprint System?
There are three important different kinds of fingerprint system. One is the kind of system used for collecting and processing fingerprints. A second is the type of system that allows for identification of fingerprints that do not have a known owner. The third is the kind of system that limits or restricts access to a certain place, machine, or collection of information based on identity. A fourth kind of kit, however, is a child's version of a fingerprint identification kit, designed to give budding scientists a taste of forensic science.
For a long time, a key part of a fingerprint system for collecting fingerprints was the inkpad. Recently, inkless systems have been brought into use. This type of system is used mainly for applicants for employment, for licenses and permits, for immigration, and for booking suspects. Systems are usually made to at least one of the specifications of the primary fingerprint identification systems so they can be used in conjunction. In addition, systems are usually enclosed in a kit of durable plastic with a handle, making it easily portable.
The second type of fingerprint system attempts to match one or more fingerprints collected using a collection kit or lifted from a crime scene to a collection of fingerprint identification records stored in a database. Because these databases contain measurements of physical characteristics of individuals, they are referred to as biometric databases.
Two important databases that serve this function in the US are the Integrated Automated Fingerprint Identification System (IAFIS) and the Next Generation Automated Biometric Identification System (ABIS) (NGA). IAFIS is a national database that includes not only fingerprint data, but also criminal history. It is maintained by the Federal Bureau of Investigation (FBI) Criminal Justice Information Services Division (CJIS). States may have their own implementation of AFIS. Other countries also have their own systems. ABIS, which is built to operate in sync with IAFIS, is a Department of Defense (DoD) project, designed, built, and maintained by Lockheed Martin Corporation.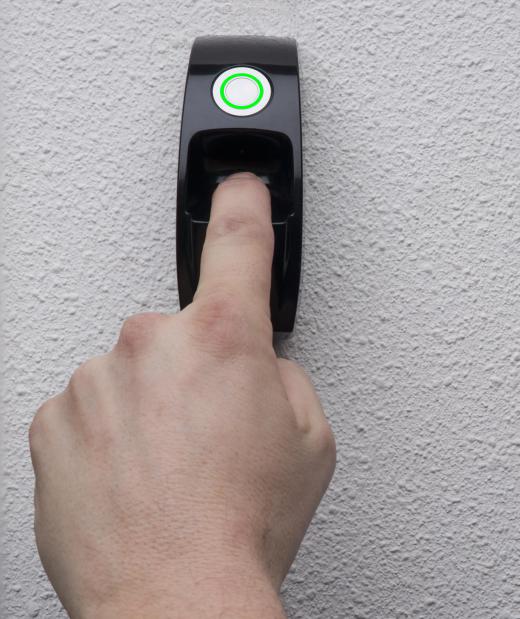 A fingerprint system can be used for security in a variety of situations. Electronic fingerprint readers can be used to secure computers as well as access to facilities, specific rooms within facilities, or a vehicle. Partly because such systems have been subject to abuse, variations are now in use. One variation is each person being issued a personal device that is carried and used to verify its owner's identity. Hand geometry, retinal and iris scans, voice analysis, and facial recognition all compete with fingerprint systems, with iris scanners considered better than all the others except retinal scans, which are thought to be best.
AS FEATURED ON:
AS FEATURED ON:

By: Kevin Chesson

Fingerprints can be stored in a law enforcement database.

By: Marina Krasnovid

The inkpad used to be a key part of a fingerprint system.

By: Fotosenmeer.nl

Fingerprint readers can be used as a security device to control access to designated areas.

By: Linda McPherson

One type of fingerprint system uses a collection kit to match prints from the crime scene to an individual.