What Are the Different Types of Filled Cupcakes?
There are many different types of filled cupcakes a person can make. For example, cupcakes can be filled with fruits, cream cheese, or cream icing. There also are more exotic options, such as almond custard filling. A person can fill cupcakes using a few methods, but the most common include creating a cavity in the cake or using a pastry bag tip to make a small hole in each cupcake. With the hole or cavity created, the cupcakes can be filled as desired.
One can prepare filled cupcakes in a variety of ways. One popular method of preparing these desserts involves scooping a small section of the inside of the cupcake out and loading the hole with the filling of one's choice. Then, a person can cut a small circle from the section he removed from the cupcake and place that on top of the filling so that it forms a "lid." If the lid is the right size, it will seal the hole in the cupcake, and the cook can conceal the cut marks with icing.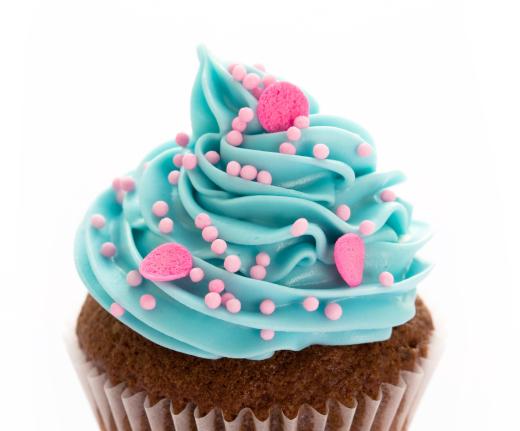 Another way to create filled cupcakes requires a pastry bag and a tip capable of making a small hole in the cake. A person can fill the pastry bag with a filling of his choice and then push the filling into the middle of the cupcake through a hole made by a pastry bag tip. This method only leaves a small hole at the top of the cupcake, which can be hidden with frosting or cupcake decorations. As an alternative, one can use this method to insert filling through the bottom of the cake instead of the top.
Cream filling, which is typically made out of butter, shortening, confectioner's sugar, and vanilla extract, is a common choice for cupcakes. It can be used with any cake or frosting flavor, but many people prefer it with chocolate or vanilla cupcakes topped with vanilla or chocolate frosting. This filling usually works well with either filling method.
Sometimes people use fruit, pudding, and cream cheese to fill cupcakes. Either filling technique is appropriate for adding cream cheese, pudding, and additions of similar consistency. Fruit, however, is usually placed inside a cupcake using the filling method that involves scooping a cavity in the cupcake through the top.
In addition to these common cupcake fillings, a person could try some of the out-of-the-ordinary selections such as almond custard or peanut butter to make filled cupcakes. Almond custard filling is usually made out of almond extract, sugar, milk, and eggs, and often goes well with both vanilla and chocolate cupcakes. Peanut butter filling generally goes well with chocolate icing and chocolate cake.
AS FEATURED ON:
AS FEATURED ON:

By: Ruth Black

A cream filled cupcake.

By: keko64

Almond and other custards can be used to fill cupcakes.