What Are the Different Types of Emergency Nursing Jobs?
There are numerous emergency nursing jobs that offer nurses employment outside of the traditional hospital setting. Some of the many emergency nursing jobs are offered on cruise ships or at summer camps and community centers. Other types of emergency nursing jobs that focus on the criminal justice system are at correctional and substance abuse facilities as well as crisis intervention centers. Women's shelters, colleges and nursing homes are other agencies that will typically employ emergency-trained nursing staff.
The need for highly trained staff to fill emergency nursing jobs in many areas of the world is in steady demand. Agencies, such as those hosting poison control boards and nursing hot lines, typically provide emergency nursing jobs for experienced nurses who will be required to provide critical information to callers. Cruise ships also employ emergency nurses to deal with a variety of injuries and illnesses that occur on the ship. Large sporting venues, such as football, baseball and speedways, commonly fill emergency nursing jobs with experienced nurses to perform triage as well as other emergency medical services for both fans and athletes. Many professional sports teams also have trained nurses on staff to attend to injured players and to work with recuperating players.
Most emergency medical flight teams, such as those used on medical helicopters, use nurses to attend to patients who are being transported. It is also standard procedure for most jails and local law enforcement facilities to employ a full-time nurse to tend to inmates as well as to administer medications and treat illnesses. Likewise, mental health hospitals and convalescent homes have nurses on staff to treat the medical needs of the patients. High schools and colleges also employ trained emergency nurses to provide medical services for the students and faculty on campus. Occasionally, airports and railroad terminals will also have an emergency nurse on the payroll to provide treatment services to passengers in the event of an accident or emergency.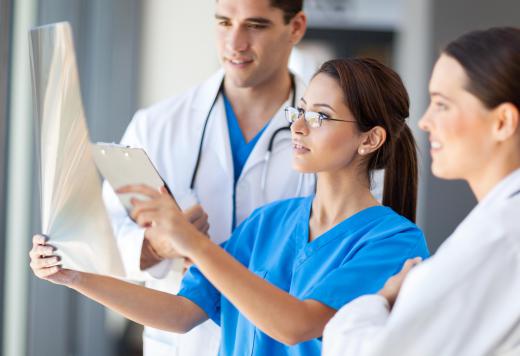 Many emergency nursing jobs are filled in training roles in nursing programs and courses throughout the world. Some of the other nursing roles found in the medical field are seen on medical and pharmaceutical boards and in research laboratories. Nurses provide a great deal of the medical services administered around the world on a daily basis. From giving first-aid to accident victims to providing vaccines to residents in economically troubled areas of the world, the emergency-trained nurse is regularly called upon to offer care and help to administer proper health care.
AS FEATURED ON:
AS FEATURED ON:

By: withGod

Emergency nurses may work at correctional facilities.

By: michaeljung

Emergency nurses work closely with doctors and other medical professionals.

By: Gabriel Blaj

Colleges typically employ emergency-trained nursing staff.

By: Rawpixel

Cruise ships employ emergency nurses.

By: Tyler Olson

A good triage nurse can play a major part in saving lives by ensuring that critically injured patients receive the fastest care possible.

By: Tim Glass

Emergency nurses often provide trauma care in a hospital's emergency room.