What are the Different Types of Duct Support?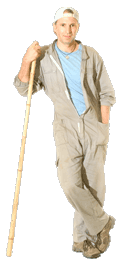 Different types of duct support hangers are used to secure heating and air conditioning ducts to surrounding walls or ceilings. Installers fasten each duct support to the ceiling using a bolt, screw, or other fastener, then secure the duct within the support hanger. Some ducts simply rest inside of the support, while others include integral hangers for easy installation. Duct supports must be installed at carefully chosen intervals to ensure adequate support and reduce the risk of failure.
Installers can choose from three basic varieties of duct support, depending on the application at hand. Trapeze hangers support the duct on three sides, and typically consist of a metal strut supported by two vertical rods. The strut may be lined with neoprene or some other type of foam to protect the duct from damage and reduce noise and vibration.
Strap hangers are basic strips of metal that wrap around the duct, allowing installers to secure ducts to a wall or ceiling. Single-rod straps wrap all the way around the duct, with a threaded metal rod used to anchor the strap to the ceiling. Double-rod straps consist of two separate metal straps that each wrap halfway around the duct. A threaded metal rod supports the hanger at each point where the straps intersect.
Steel cables represent the simplest type of duct support hanger. Installers fasten a metal cable to the ceiling, then loop the cable around the duct every few feet along its length. Many fabric or plastic ducts include built-in steel cable hangers.
Builders and engineers must consider a number of factors when comparing duct support options. They must choose among steel, plastic, and other materials based on the needs of the application. For example, galvanized duct supports may be required in moisture-prone areas, while thermoplastic units may hold up better against some chemicals in an industrial setting. The material's ability to resist fire and high temperatures should also be taken into account.
Each duct support must be sized carefully based on the size, shape, and weight of each duct. Engineers also consider the force created by air flow through the system, as well as any external factors that may add force to the hangers. The length and width of each hanger depends on total load as well as the design and construction of the wall or ceiling. Finally, some duct hangers are also designed to provide easy access for maintenance and removal over time as needed.
Worker