What Are the Different Types of Digital Locks?
Digital locks use electronics to safeguard restricted entrances, and are often installed in place of traditional mechanical key locks. There are several different types of digital locks, each with certain advantages. Magnetic locks use electromagnets to keep a door closed, while electric strike locks employ solenoid motors to engage a deadbolt. Common methods of opening digital locks include the use of numeric codes, card keys, and biometrics.
Magnetic varieties of digital locks, also known simply as "mag locks," have an electromagnet embedded in the door frame. A second magnet or a metal plate is installed opposite the electromagnet. When electricity is applied, the magnetic field holds the door tightly closed. Digital magnetic locks are very difficult to physically bypass, since there are no mechanical parts. If electric power is lost, however, a magnetic lock can become inactive.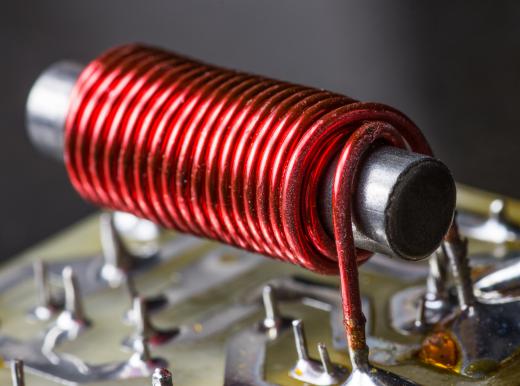 Electric strike locks use moving parts to keep a door secure. As with a standard deadbolt, the bolt of an electric strike lock slides into the door frame when engaged and prevents the door from opening. While traditional deadbolts must be turned by hand, electric strike locks use powered solenoid motors to push and pull the bolt. This type of digital lock will typically remain closed even if electric power is lost.
Digital locks can be activated and deactivated in several different ways. One of the most common access methods is the card key. These plastic keys contain an encoded magnetic information strip, and are often found in modern hotels. The digital code on a card key must match the code programmed into a reader in order for the electronic lock to open. Card keys can be quickly duplicated or changed, and are inexpensive to replace if lost.
Numeric codes can also be used to access digital locks. With this method, a keypad is placed on or near the door. Authorized personnel must enter the correct key sequence to unlock the door. The advantage of a numeric code is that there is no physical key to be misplaced or stolen. As with digital card keys, numeric codes can be changed quickly and easily.
Biometrics can also be used to open digital locks. These are characteristics unique to one individual, and may include fingerprints, eye patterns, and facial structure. A digital biometric lock contains a database of these physical characteristics, and will only unlock if the person opening the door can be identified as an authorized user. Biometric digital locks are typically more sophisticated and expensive than other types, but are usually very secure.
AS FEATURED ON:
AS FEATURED ON:

By: zigzagmtart

Magnetic digital locks use electromagnets to keep a door closed.

By: Africa Studio

Some safes have a digital lock that is opened using a numeric code.