What are the Different Types of Cycling Wheels?
Cycling wheels will vary significantly in size, construction, and materials, according to the specific purpose for which they will be used. Some cycling wheels are designed specifically for mountain biking, while others are designed for road cycling, leisure cycling, winter cycling, or other types of bike riding for which a specific wheel design may be necessary. The three most common industry sizes are 26 inch wheels, 29 inch wheels, and 700c wheels; 700c wheels are road-specific cycling wheels, while 26 and 29 inch wheels are commonly found on mountain bikes and leisure bikes.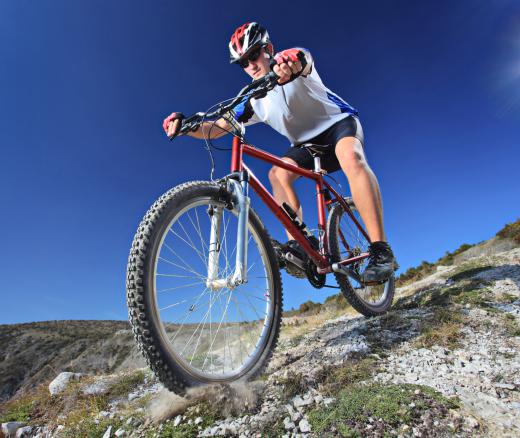 Road cycling wheels are taller than mountain bike wheels and are also much lighter and thinner. This is done to promote aerodynamics and reduce rotational weight that can otherwise slow the cyclist down. Some road cycling wheels feature bladed spokes, which are flattened and positioned so air can rush over them with little resistance, much like the wing of an airplane. The lacing pattern of these spokes, or the position in which the spokes connect to the rim, will vary according to the specific wheelset, though a three-cross pattern is most common; this means one spoke will cross over or under three other spokes before connecting to the rim.
Some road cycling wheels feature no spokes at all. These wheels are known as disc wheels and are often made from carbon fiber. The wheel is solid but still lightweight, and it is designed this way to reduce as much aerodynamic drag as possible. Such wheels are very expensive and are usually only used on certain types of race bikes, such as time trial bikes. The front wheel on such bikes sometimes features a tri-spoke pattern, in which three large carbon spokes connect the hub to the rim instead of several smaller, thinner spokes. These types of rims often feature tubular tires, which are tires designed to act as both the tire and the tube. Such tires need to be glued onto the rim.
Mountain bike wheels are wider, heavier, and more stout than road cycling wheels because they are likely to endure impact after impact while on the trails. Some mountain bikes, such as downhill-specific mountain bikes, feature extra wide and heavy duty rims to endure the heavier impacts such a bike will take. Racing mountain bikes often feature lightweight wheels, sometimes with bladed spokes, and some rims are designed to run tubeless tires; the inside of the rim therefore features no openings so air cannot escape when a tubeless-specific tire is mounted to it.


By: Ljupco Smokovski

A road cyclist.

By: Ljupco Smokovski

A man mountain biking.

By: Stefan Schurr

Cycling wheels vary depending upon their intended purpose.