What Are the Different Types of Cubicle Parts?
Cubicle parts can include everything from the pieces for a basic structure to accessories that customize a workspace to a user's particular specifications. All cubicles have walls and the connectors, bases, and brackets necessary to hold them together. Beyond this, there are numerous possibilities for storage, work spaces, privacy, and electrical connections. Different configurations and accessories can be combined in a variety of ways to customize this endlessly flexible space.
Most cubicle walls are fabric-covered panels inserted into metal frames with plastic or rubber covering. A typical cubicle will have three walls, with an opening for access. Some systems also have glass panels installed in portions of the wall. Cubicles can also have ceilings and rigid or accordion style doors for added privacy.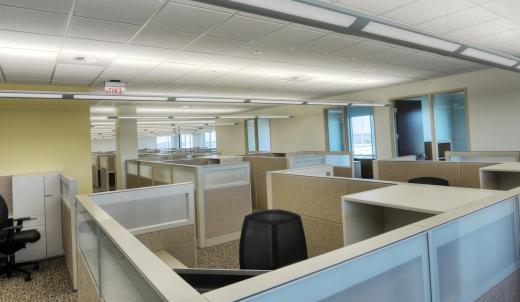 The basic components for assembling cubicle parts include wall tracks, connectors, brackets, and bases. Wall tracks fit along the top of the cubicle walls. The connecters fit into the wall tracks at each corner in order to attach the walls. Support brackets provide additional support for the top of the walls where they connect, while bases provide support for the bottom portion in addition to holding the panels erect.
There are other cubicle parts which can help to reinforce or protect the assembled module. Many systems have baseboards of metal, rubber, or plastic which add stability in addition to providing protection for the base of the cubicle panels. Some systems also have end caps which provide a finishing touch by snapping onto the corners of the walls. Filler strips can be applied to the gaps between cubicle walls in order to achieve a tighter fit and increased privacy.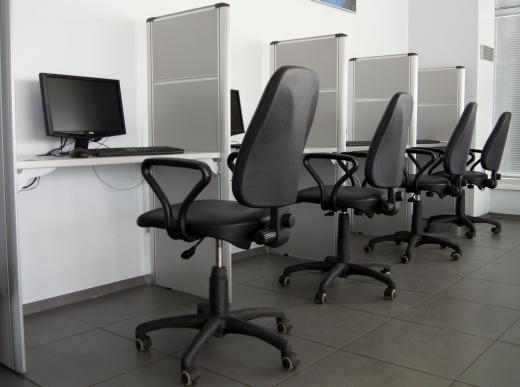 Beyond the basic cubicle parts, modules can be customized to accommodate space, professional requirements, tastes, and budget. Some other cubicle parts that are commonly found in offices include overhead storage bins, desk drawers, shelves, filing systems, and work surfaces. Most cubicle storage pieces tend to be made of metal, while many desk tops are made of a laminate designed to look like wood. Configuration, color, and style vary widely among these pieces, though they tend to be conservative in appearance overall. Many cubicles also have electrical outlets and overhead task lights.
There are several other cubicle parts that can be used to customize the workspace for comfort and efficiency. These include holders for paper, cups, and other supplies. There are also light shields that can be affixed to the top of the cubicle.
AS FEATURED ON:
AS FEATURED ON:

By: Jesse Kunerth

Office cubicles.

By: dbvirago

Cubicles in an office building.

By: naftizin

Cubicles can be customized to accommodate space, professional requirements, tastes and office budgets.