What Are the Different Types of Crock-Pot® Stew?
Several different types of Crock-pot® stew are suitable for nearly anyone's tastes. In its classic form, this dish is a combination of beef, vegetables, and a starch that simmers for hours, rendering every ingredient tender and flavorful. There are also several varieties of chicken Crock-pot® stew, as well as stews that mix two or more meats with other ingredients. This dish can also be adapted for vegetarians, and include a mix of seasonal vegetables, beans, and rice.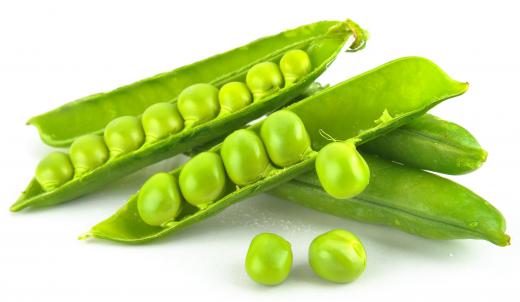 Beef stew is a classic fall and winter dish that can easily be made in a slow cooker. A whole roast or cut up stew meat is combined with either beef broth, condensed canned soup, or other liquids. Several different types of root vegetables, such as carrots, celery, and onions, are cut up into large pieces and added to the Crock-pot® stew as well. The dish is then seasoned to taste with dried herbs, spices, and other seasonings, and allowed to cook for several hours over low heat.
For those who prefer white meat, chicken Crock-pot® stew is often a good choice. In these types of stew, chicken broth or stock is the common liquid base, and any number of vegetables can be added to the dish. Unlike chicken soup, this type of stew typically has very little liquid when served, and starches such as potatoes, beans, and rice are often added to thicken up the remaining liquid in the slow cooker.
In many countries, a mix of different types of meat is a popular version of Crock-pot® stew. Chicken and seafood are a common combination, and sausage may be included with these ingredients or in place of either the seafood or chicken. Unlike other types of Crock-pot® stew, where vegetables play just as much a role in the dish as the meat, these types of stew typically center on the meat, and vegetables are used to add a small amount of flavor. Tomatoes, corn, peas, and finely chopped root vegetables are popular additions to mixed meat Crock-pot® stews. Oftentimes, this dish is served over freshly-cooked rice or buttered noodles. When the dish is made up of all seafood, potatoes are a common starch accompaniment.
Although the term stew is typically used to describe stewed meat, there are also vegetarian Crock-pot® stews. These can include any number of vegetables, although a mix of seasonally available vegetables is most common. In these types of dishes, beans often take the place of meat, and are usually slow cooked with the other vegetables in a vegetable stock or tomato base after the beans have been rinsed and soaked. To stay in line with the ease of Crock-pot® cooking, canned beans are also often used. In place of the beans, or alongside it, rice or legumes may also be used in the stew to provide bulk and flavor.


By: Africa Studio

Carrots and potatoes, which can be used to make several types of Crock-Pot® stew.

By: sevenk

Peas are commonly included in Crock-Pot® stews.

By: Maurice Metzger

Cut up stew meat.

By: msheldrake

Crock-pot stew consists of beef, vegetables, and a starch.

By: annie1961

Chicken Marsala simmered in a Crock-Pot® slow cooker.

By: Joe Gough

Chicken cacciatore is an ideal Crock-Pot® stew.

By: Viktorija

Crock-Pot® stew can also be adapted for vegetarians.