What Are the Different Types of Cream Cheese Appetizer?
A cream cheese appetizer can take many forms, because it is such a versatile ingredient. It can be used as the base for a dip or spread to be put on small slices of toast. The cheese can be used in dollops on crackers to accompany fish or other small slices of food. There are classical cream cheese appetizer sandwiches that can be cut into small, bite-size squares to be served with tea. More exotic uses find the cheese wrapped in ham, mixed with hot sauce or even baked.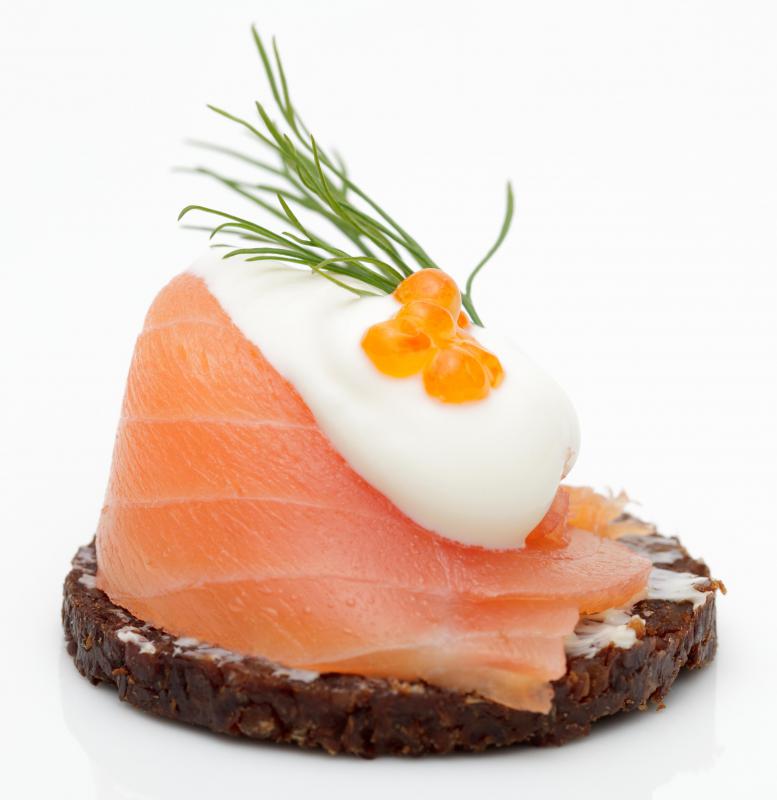 One sometimes forgotten aspect of making a cream cheese appetizer is that, for some tastes, the cheese can be too sweet or too dense. In these situations, the cheese can be thinned with sour cream, half and half, cottage cheese or even heavy cream. Whipping cream cheese to add air also can help to lighten the flavor in situations in which the texture might be too dense, although this can take some time and effort without an electric mixer.
There are a variety of spreads and dips that can be prepared as a cream cheese appetizer. One classic pairing is artichoke hearts and cream cheese, mixed together with salt and pepper or finely diced vegetables such as red pepper. Another spread can be made from sun-dried tomatoes, fresh basil, garlic and shallots. A quick dip can be created by mixing cream cheese and salsa and heating it for a few minutes until it combines into a smooth mixture. All of these can be served with slices of toasted baguette or crackers.
A small finger sandwich often is a popular cream cheese appetizer. These can be something very simple, such as cucumber slices and cream cheese on plain sandwich bread. It also can be something more dramatic, such as cream cheese mixed with walnuts, jalapeno peppers, scallions and some cumin spread inside a tortilla, rolled up and sliced into medallions that look like pinwheels. There are even some more elaborate sandwich-like preparations, such as spreading cream cheese between slices of ham, wrapping the ham around a pickle and then cutting it into thin rounds.
Salmon and cream cheese is a favorite combination for many people, and a simple cracker with cream cheese topped with smoked salmon can often satisfy a craving. Diced salmon can be mixed with gentle Italian spices and mixed into cream cheese and sour cream to make a dip. There is even a way to mix the cheese with salmon pieces to make small cheese balls that are then rolled in dill-flavored breadcrumbs. This also can be done with crab meat to make a sort of cold crab cake appetizer.
One more labor-intensive type of cream cheese appetizer is the one created when small pillows of cream cheese are baked inside bite-size square of phyllo dough. Cream cheese, tomato, scallion and a little egg yolk are mixed together in a bowl. A spoonful of the mixture is placed in the center of each phyllo square, and then the square is wrapped around the cheese and baked. This creates a very rich appetizer with a subtle flavor. Gorgonzola, bleu cheese and dill also can add some extra flavor to the appetizer when mixed with the cream cheese.
An appetizer with cream cheese, tomato, olive and basil.

Salmon canapés with cream cheese, caviar and dill.

Sour cream can be used to reduce the richness of a cream cheese appetizer.

Smoked salmon bagels are typically eaten at breakfast or brunch.