What are the Different Types of Cotton Organic Clothing?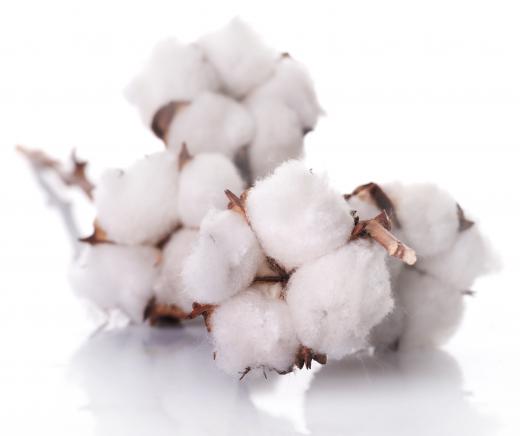 Cotton organic clothing is clothing manufactured using fibers from cotton that has been grown organically. Criteria that govern the use of the term "organic" may vary among countries, but generally, some basic methodology applies. For instance, cotton used in true cotton organic clothing must have been grown without synthetic fertilizers or genetically altered cotton seed. Virtually all types of clothing in adult, children, and infant wear are available for purchase in organic cotton.
In most cases, cotton organic clothing tends to be more commonplace in casual wear. This is probably because cotton in general is more suited to this type of clothing. Cotton is popular in casual wear because of the comfort it offers and because of the color possibilities. Of all fabric fibers, cotton probably is one of the easiest to dye, and this is even truer with organic cotton. Cotton organic clothing is dyed using natural color treatments that are chemical-free, such as indigo, henna, bloodroot, and barberry.
Button-up shirts made for both men and women can be purchased in organic cotton. These shirts are typically worn underneath suit coats and usually have collars and cuffs. The cotton used typically has a high thread count and a very tight weave. Common colors available are white, ivory, and gray.
One of the most affordable and popular types of cotton organic clothing is probably the pullover cotton tee shirt. Cotton used in this type of shirt needs to have some stretch, so the fibers are knitted instead of woven. The knitting process allows the fibers to separate when pulled upon, thus giving the fabric the necessary ability to stretch. Organic cotton tee shirts are available in sizes to fit both adults and children, with a variety of sleeve lengths.
Cotton has long been a popular choice in sleepwear, and organic cotton is used to make nightgowns, pajamas, and bathrobes. One drawback to purchasing pure organic sleepwear is its flammability, especially in sleepwear intended for infants and children. Sleepwear made of polyester or polyester blends tend to melt rather than flame, and is generally considered much more flame-resistant than cotton organic clothing.
Many different types of pants and shorts are made from organic cotton. This includes jeans, dress pants, and pants and shorts intended for exercise and jogging. Denim jeans may be the most popular type of pants made from organic fibers. This may be because jeans are generally more popular with young people, and this age group is at the center of the "green" fashion movement. This movement not only promotes the use of organic fibers, but also encourages recycling old clothing into new.


Cotton bolls on a branch.

By: Monika Wisniewska

Organic clothing, such as organic cotton pajamas, is created without the use of pesticides.

A field of cotton.

By: gemenacom

An organic cotton T-shirt.

By: lalouetto

Denim jeans are a popular type of pants made from organic fibers.

By: Jeanne McRight

Organic baby clothing is more durable and gentler on sensitive skin.

By: WINIKI

Cotton organic clothing may be dyed using natural color treatments that are chemical-free.

By: ratana_k

Organic cotton can be used to make children's clothes.