What Are the Different Types of Cottage Cheese Dip?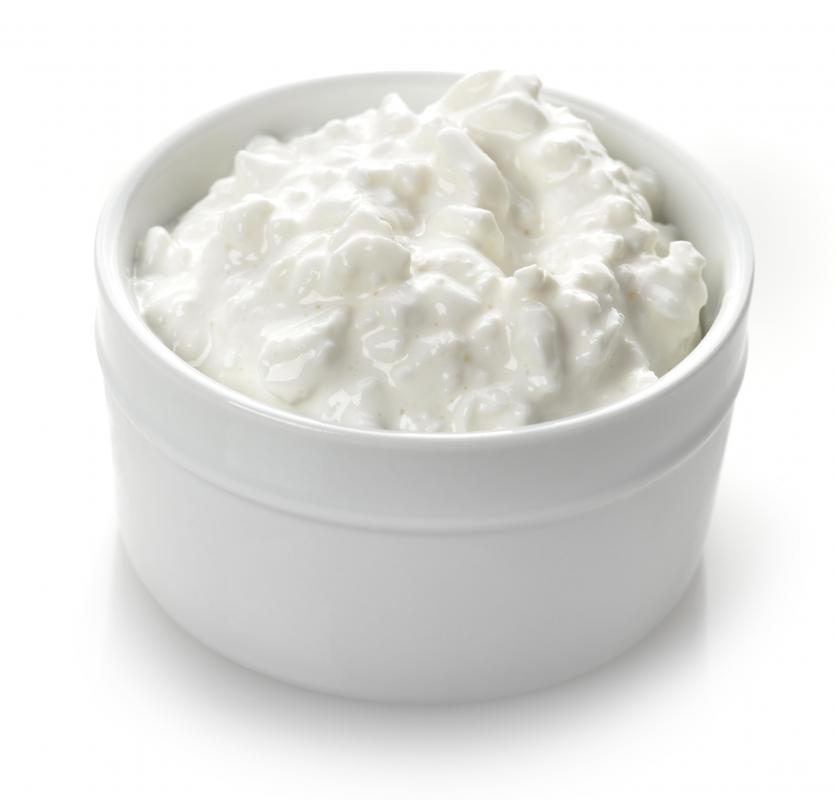 Cottage cheese dip is a type of dip that consists of cottage cheese and other ingredients such as onion powder, fresh garlic, grated cheese, and sour cream. Typically, vegetables such as carrots, celery, and green peppers are dipped into the cottage cheese mixture. Crackers, tortilla chips, and bread are other common pairings. There are several variations of cottage cheese dip and many different ingredients that can be used in the recipe.
A popular way to prepare cottage cheese dip is to add vegetable or onion soup mix to the cottage cheese. This adds flavor to the mild-tasting cheese and makes it more suitable for dipping purposes. Adding either milk or sour cream can thin out the mixture and make it easier to eat as a dip. Black pepper, salt, cumin, and other spices can be added to enhance flavor and texture. It is common to eat onion or vegetable flavored cottage cheese dip with raw vegetables such as baby carrots, sweet peppers, celery stalks, and mushrooms.
Cottage cheese dip is also commonly eaten with salted tortilla chips. This type of dip will typically consists of cottage cheese, sour cream, shredded cheese, garlic powder, taco seasonings, and other herbs and spices. Spicy cottage cheese dipping sauces usually include ingredients such as jalapeno peppers and hot sauce, as well. Chopped green onions, tomatoes, and cilantro can also be used in this type of dipping sauce.
Bacon cottage cheese dip consists of cottage cheese, crumbled bacon, garlic powder, milk, and mayonnaise. Other ingredients such as onion salt, pepper, lemon juice, and paprika can also be added to this mixture. Typically, crackers or potato chips are dipped into the chilled bacon cottage cheese dip, but fresh vegetables can also be used. The bacon used in this recipe is generally cooked well and crispy in texture, rather than soft.
Blue cheese can also be added to cottage cheese dip, and will give the dip a sharper and more pungent flavor. Worcestershire sauce, black pepper, and cream is also usually added to this version of the dip. If blue cheese is too strong in flavor, other cheeses can be added. It is common to add shredded cheddar, mozzarella, or Monterey Jack cheese to the dipping sauce. A variety of cheeses and vegetables can be used to add more flavor and texture to the mixture, as well as an array of herbs and spices.
Cottage cheese, among other whole dairy foods, can be high in LDL cholesterol.

Many cottage cheese dips may include sour cream.

Black pepper can give cottage cheese dip a more pungent flavor.

Shredded cheddar cheese is often added to cottage cheese dips to add flavor.