What are the Different Types of Computer Programming Jobs?
There are four different types of computer programming jobs: consultancy, working for a software company, teaching, and research. All four options require a minimum post-secondary training in at least three different computer languages, experience writing and troubleshooting programs, and testing skills. Computer programming is an information technology sector job that is expected to experience an above-average demand in the next five to ten years.
In order to become a computer programmer, you will need to complete post-secondary education in computer science or programming. Admission to this type of program requires high school credits in calculus, technology, and English. Computer programming training is available from universities, community and career colleges. There are multiple options available within this type of program to specialize in different types of computer technology and programming languages.
The most common source of computer programming jobs is consultancy. A skilled, experienced computer programmer can open his own consulting practice or join other self-employed, information technology staff. Many professionals set up their own consultant firm, and then contract with a larger information technology firm to provide them with projects and jobs. While the agency does take a percentage of the revenue, the programmer does not have to spend time looking for work and submitting proposals.
There are a broad range computer programming jobs available in computer software companies. Although many people think that all programming languages are the same, this is not the case. In fact, computer programming can be divided into four genres: web-based, functional, operational, and graphical. The types of skills required depend on the industry and the language the product was originally created in.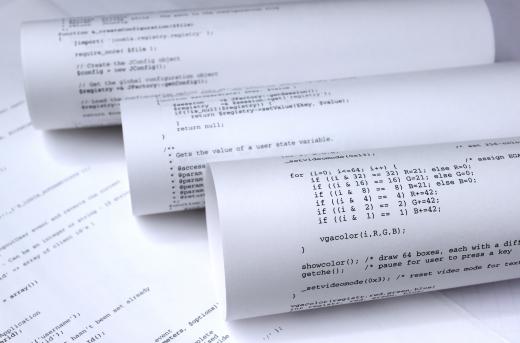 Experienced computer programmers can become instructors at local community or career colleges, teaching courses at a professional and amateur level. Many people who have no background in information technology are interested in learning computer programming as a hobby. These types of courses are usually offered on evenings and weekends.
Full-time courses for people who want to become professional computer programmers are usually scheduled during the day. In order to become an instructor, many computer programmers complete a certificate program in adult education. Learning the most effective way to teach adults can be a huge help when making this career transition.
Research into computer programming, logic, and system manipulation is a huge area of exploration. Grants are available from government agencies, software companies, and other groups to expand the field of knowledge in this area. Many of these types of projects are international in scope, like the Human Genome Project. While the output and data is purely scientific, the computer programming behind this tool was a significant, multiyear project.
People who report the greatest satisfaction in computer programming jobs enjoy problem solving and working independently. Computer programming as a career provides many opportunities. However, it also requires a significant dedication to continuing education throughout your career, as new languages and technologies are constantly being developed.


By: Photo_Ma

Computer programmers may specialize in updating existing software.

By: Leo

Computer programmers often have to work with computer coding.

By: uwimages

Computer numeric controlled manufacturing jobs require extensive computer programming training.

By: Gudellaphoto

Computer programming includes three computer languages and several different "genres" of programming.

By: Anna

Some programmers write code while others are tasked with troubleshooting existing code.

By: Ariwasabi

Software developers might create mobile friendly versions of popular computer programs.