What are the Different Types of Chinese Ointment?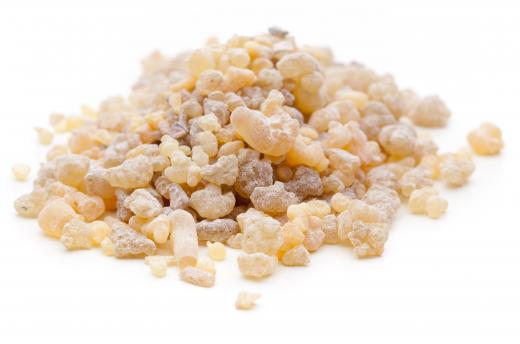 Although there are many branches of traditional Chinese medicine, one of the most commonly adopted is the application of specially formulated ointments. Chinese ointment is almost always made of pure, natural ingredients such as ginseng, licorice root, Chinese angelica, and bitter orange. The various types may be used to help treat everything from body aches to stress, skin conditions to burns. This particular form of alternative medicine is also quite popular with athletes, because many varieties are said to aid in loosening joints and muscles, assist the body in avoiding injury, and accelerate the healing process for most sports-related injuries.
Many of the ointments available focus on healing skin wounds and relieving pain. For instance, Chinese ointment that is meant for burns is said to help draw heat away from the wound by decreasing inflammation; it also is said to promote healing and relieve pain or irritation, and it may contain ingredients such as lobelia, carthamus, myrrh and sanguisorba. There are also many ointments available that are said to soothe aches and pains related to muscle strains, arthritis, and sinus pressure. This variety will generally contain calming extracts of menthol, clove and cassia.
In addition to burns and wounds, Chinese ointment is thought to help relieve or even cure a number of skin conditions. Eczema, for instance, may be treated with rehmannia, dong quai or licorice root, all of which are said to help ease inflammation and detoxify the body. Acne may also be treated using traditional Chinese medicine. These ointments often contain ingredients such as dandelion, which is considered a potent detoxifier; red peony root, which is said to aid in a decrease of inflammation; or astragalus, which may help dry abscesses and clear up skin infections.
Some types of Chinese ointment are said to aid in altering emotional stresses or anxiety. These ointments may contain a number of herbs such as ginseng root, sour date and arborvitae seed, which are believed to calm the spirit; and gardenia seed, which is thought to help relieve irritability and restlessness. Aromatherapy also plays a large part in this variety of Chinese ointment. Frankincense is frequently used as an ointment to help treat stress, because it is thought to help ease stiff muscles and stimulate circulation within the extremities. Other ointments may include mimosa flower or bark, bupleurum and poria root.
Chinese ointment may be purchased in a number of stores. Many people, however, prefer to create a homemade ointment that can meet specific needs. Traditionally, ointments were made with aged rice wine; however, homemade versions may contain simple, natural bases made of sesame oil and beeswax, which can then be mixed with essential oils.


By: unpict

Frankincense, which is used to make an ointment to treat stress.

By: Tamara Kulikova

Safflower, also called hong hua or carthamus, is often used in Chinese ointments.

By: chungking

A medicated oil used in TCM.

By: bloomua

Ointments that contain menthol, cassia or clove might be used for sinus pressure.

By: Hayati Kayhan

Licorice root is an ingredient used to make Chinese ointment.

By: evgenyb

Chinese ointments typically treat any kind of skin wound or pain.