What are the Different Types of Car Accident Law?
When a car accident occurs, it is often pretty clearly the fault of one driver who makes a mistake or loses control due to environmental conditions. Sometimes it is less clear who made the mistake that led to the crash. This can lead to expensive litigation in determining whose insurance must pay for repairs, hospital costs, and other losses. Depending on the jurisdiction, there are two main schools of car accident law that may be in effect, commonly known as traditional tort or no-fault liability.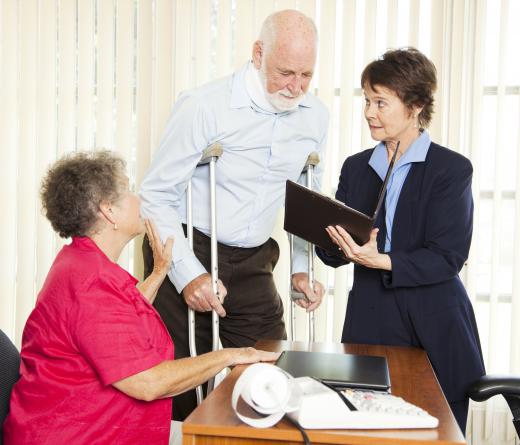 Traditional tort law provides that the damages suffered by a victim in a car accident must be paid by the driver who was at fault, which in most cases is by his insurance company. In situations where there is a disagreement over who was at fault, the case may go to court or be settled out of court, based on police reports and the reports of adjustors who work for the insurance companies. Either way, under traditional tort law the victim and his insurance company generally have the entirety of their costs reimbursed, though it may take a significant period of time.
No-fault, or strict liability, stipulates that a victim's insurance company is responsible for any damages that person or his vehicle may suffer in an accident, no matter who is legally at fault. The at-fault driver's insurance will pay for his claim while raising his premiums as a penalty. The ability of a victim to sue for damages under strict liability is limited or restricted entirely.
The goal of this kind of car accident law is to avoid costly court cases that can result when damages are sued for. It also speeds up payments for costs such as hospital care. Critics of no-fault law contend it does not lower rates, and by not allowing for court settlements does not sufficiently punish offenders or reward victims.
There are several versions of no-fault car accident law. Pure no-fault law does not allow for any damages to be sued for, regardless of circumstances. Quantitative monetary threshold no-fault law sets a minimum dollar amount before damages can be recovered. Qualitative verbal threshold allows for recovery suits in cases where a set of medical standards are met, such as losing a limb.
In the United States, pure no-fault car accident law is not applicable in many jurisdictions. A very limited number of states allow a driver to choose between traditional or strict liability insurance. In Canada and other countries around the world, the different varieties of strict liability are more common, though traditional tort liability is still the more popular system of car accident law.


By: rangizzz

A car that's been in an accident.

By: Lisa F. Young

People consulting with an attorney after a car accident.

By: Anna

A lawsuit may allege that a negligent driver is liable for the injuries of another.

By: mrivserg

In some states, it is illegal to move a vehicle after an accident occurs.