What Are the Different Types of Bridal Shower Cupcakes?
Bridal shower cupcakes come in a variety of styles and themes, from flowers and polka dots to hearts. Cupcakes can be decorated with candy pearls and lace frosting to resemble the bride's gown, or they can be decorated using the couple's wedding colors. The cupcakes also can feature personalized touches, such as monograms or the couple's upcoming wedding date.
Cupcakes adorned with flowers are often well-suited for bridal showers. The tops of cupcakes can be decorated with a single flower, such as a rose, daisy or violet. They can also feature a colorful assortment of flowers, or even a bouquet. If the flowers for the wedding have already been decided upon, that selection can be mimicked on the cupcakes with either a single bloom or a small bouquet of flowers.
Hearts are a common symbol of love, and hearts can easily be incorporated into bridal shower cupcakes. Heart-shaped cupcake pans can be used to make heart-shaped cupcakes. They can be topped with frosting and heart sprinkles. Regular cupcakes can be frosted and topped by pressing a frosted, heart-shaped cookie vertically into the top of the cupcake. Candies shaped like hearts can also be sprinkled onto the frosting.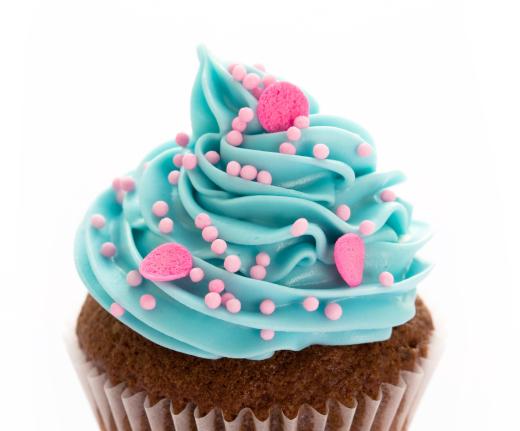 Bridal shower cupcakes can range in size from petite to over-sized. Petite cupcakes are bite-sized and can be decorated with colorful frosting. Over-sized cupcakes can be decorated as mini-cakes, including making individual bridesmaids cakes. Jeweled cupcakes can be created to match the bride's gown. The cupcakes can also be adorned with pearl candies, pearlized sugar and icing that resembles lace to resemble the bride-to-be's wedding gown.
The bridal shower cupcakes can be decorated with frosting or toppers that match the future bride's wedding colors, or her hobby or vocation. If the bridesmaids will wear hats at the ceremony, cupcakes can be topped with miniature versions of the hats that are created using icing. If the bridal shower has a theme, such as candy, cooking or tea party, the cupcakes can be decorated or shaped to help carry out the theme.
Personalized cupcakes can add a special touch to an event. Bridal shower cupcakes can feature the names of the happy couple, the date of the big day or the names of the bridal shower guests. Frosting can also be used to create the new couple's monograms on the cupcakes, or the initials can be written with liquid chocolate or sugar, hardened and then placed on the cupcake. Another option is to set up a work area with plain cupcakes, frosting and decorations, and allow party-goers to decorate their own cupcakes at the event.
AS FEATURED ON:
AS FEATURED ON:

A cupcake decorated with marzipan roses.

By: Ruth Black

A frosted cupcake.

By: BigKnell

Fondant frosting may be used for decorating cupcakes.

By: eyeQ

Bridal shower cupcakes can be decorated to match the wedding flowers.