What Are the Different Types of Birthday Cupcakes?
Birthday cupcakes are small, serving-sized cakes that are prepared specifically to celebrate someone's birthday. They typically are made for a child's birthday or birthday party, but adults can enjoy them as well. There are many ways that a baker can turn regular cupcakes into birthday cupcakes, including altering the icing, the decoration and the presentation of the cupcakes. In addition, there are different types of cupcakes that a baker might choose to accommodate the dietary needs or preferences of the person whose birthday is being celebrated. The different types of birthday cupcakes can be categorized based on their decoration, their theme or their flavor.
When making birthday cupcakes, a baker can decide on how the cupcakes should look to make them unique. One option is to cover the cupcakes in an icing of a special color, either one that looks particularly festive or the favorite color of the person whose birthday is being celebrated. Another idea is to use icing of all different colors on the cupcakes, which works well for a child's birthday party. A baker might also choose to write the birthday boy's or girl's name or age on the cupcakes with icing.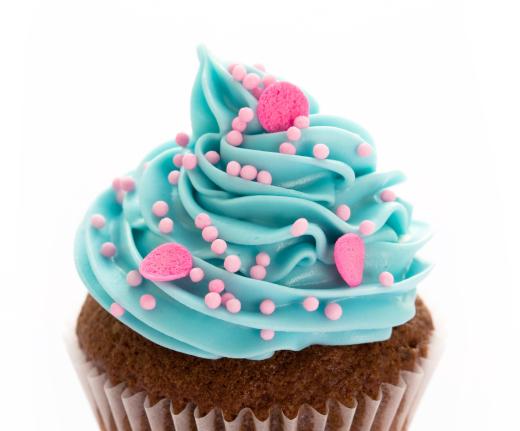 Regular cupcakes can be made into birthday cupcakes for children by choosing a theme to suit the birthday boy or girl's tastes. For example, a baker might make a cupcake that looks like a baseball, using a coat of white icing along with some red icing to make fake stitches on the cupcake. A baker could use small candies or chocolates and icing to draw balloons on a cupcake. One might buy small, edible dinosaurs and use green sprinkles to simulate grass, making a dinosaur-themed cupcake for a child's birthday. A little imagination can help the baker create virtually any theme on cupcakes for a birthday party.
Even regular cupcakes can become birthday cupcakes if they are presented in a special way. A baker might place cupcakes in a circle on a pie plate or tray to make the cupcakes look like a birthday cake. A candle can be placed in each cupcake for the birthday boy or girl to blow out. Alternatively, the cupcakes might be stacked in the shape of a pyramid or cone to make them look special. The only disadvantage of this layout is that icing from one cupcake can get on the bottom of another.
Any flavor of cupcakes can be used for birthdays. The ingredients in birthday cupcakes also can be altered to suit the needs or tastes of the birthday celebrant. A baker can use whole wheat flour to make birthday cupcakes that are healthier. Bananas or other fruit can also be baked into the cupcakes as a way to reduce the amount of sugar needed. Applesauce and nuts can also be used as healthy ingredients in cupcake recipes.
AS FEATURED ON:
AS FEATURED ON:

By: Ruth Black

A birthday cupcake.

By: mitrs3

A healthier version of birthday cupcakes can be made by replacing oil and butter with applesauce.

By: Constantinos

A candle should be placed on top of a birthday cupcake.