What Are the Different Types of Bedroom Wall Lamps?
Sconces, swing arms and recessed lights are all options when choosing bedroom wall lamps. Other types of bedroom wall lamps include bracket-mounted lights and picture lights. The distance, or projection, from the wall varies among bedroom wall lamps, ranging from flush-mounted recessed lighting to sconces with arms able to extend varying distances from the wall. Bedroom wall lamp designs range from modernistic chrome to classic stained glass styles.
Swing arm lamps come in a wide variety of styles and can be wired directly or plugged in. Mounted on the wall, swing lamps feature a telescoping, folding arm that allows the light to be pulled away from the wall or it can be used close to the wall. Often used as reading lights, the swing arm allows the light to be positioned at the optimal location for reading or other activities, then tucked back out of the way near the wall when not needed.
Recessed lighting provides light and atmosphere without bulk. Often used in the lower portion of walls near steps or walkways, recessed lighting is unobtrusive and offers light without intruding on the walkway. Where optimal light is required, recessed lights are often used in multiples rather than single lights.
Wall sconces come in a wide assortment of styles and shapes, including single and multiple light options. Some single-light bedroom wall lamp shapes include bullet, silo and wedge. Contemporary wall sconce styles include rectangle-shaped sconces mounted to the wall with a round bracket and frosted square glass lamps held out from the wall with decorative clips. Bedroom wall lamps with a more sophisticated style include shell-shaped lights or chandeliers with dangling crystals.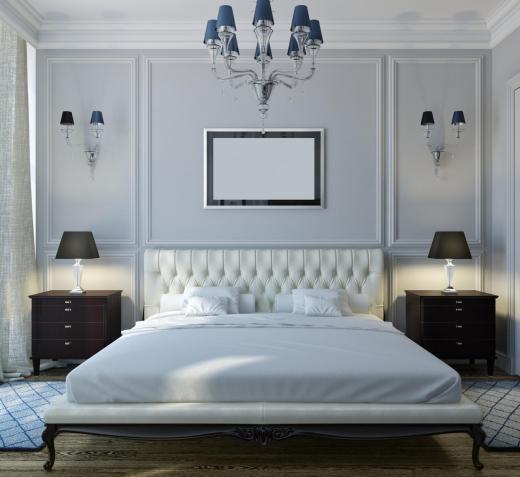 Styles of wall sconce lighting can range from a single candle look to a track with multiple adjustable sconces. To bring the outdoors in, some wall sconces imitate nature by including simulated twigs and branches into their designs. Some bedroom wall lamps have wall sconces that are adjustable, enabling the light to be directed to highlight artwork or other focal points in the bedroom.
The glass of a wall sconce determines the style. It can be simply clear or frosted, or have an array of rich or muted colors. Some of the most colorful bedroom wall lamps feature stained glass patterns or hand-blown glass fixtures. Stained glass design styles can range from traditional art nouveau and craftsman patterns to more unconventional confetti designs.
The metal fixtures, such as brackets, used on bedroom wall lamps can be a prominent part of the lamp, or hidden beneath the glass or in the wall. Bedroom wall lamps are available in a variety of finishes, including bronze, chrome and brass. Other popular options are copper, gold and white.
AS FEATURED ON:
AS FEATURED ON:

By: Vitas

Wall lamps are secured to a wall to provide illumination, and come in many styles.

By: sowanna

Small chandeliers and matching wall lighting can be used in modern bedroom layouts.