What are the Different Types of Bathroom Tile?
Tile is considered one of the best options for bathroom flooring because of its durability and water resistance. One of the drawbacks to using tile is that is it usually more expensive — not only is the cost of the bathroom tile expensive, but so is the installation. Some of the more expensive types of tile include ceramic tiles such as porcelain and natural stones such as granite, slate, or marble. Vinyl tile, however, is usually inexpensive, and most of the time, homeowners can handle installation on their own. Many varieties of vinyl tile come with the adhesive backing already applied.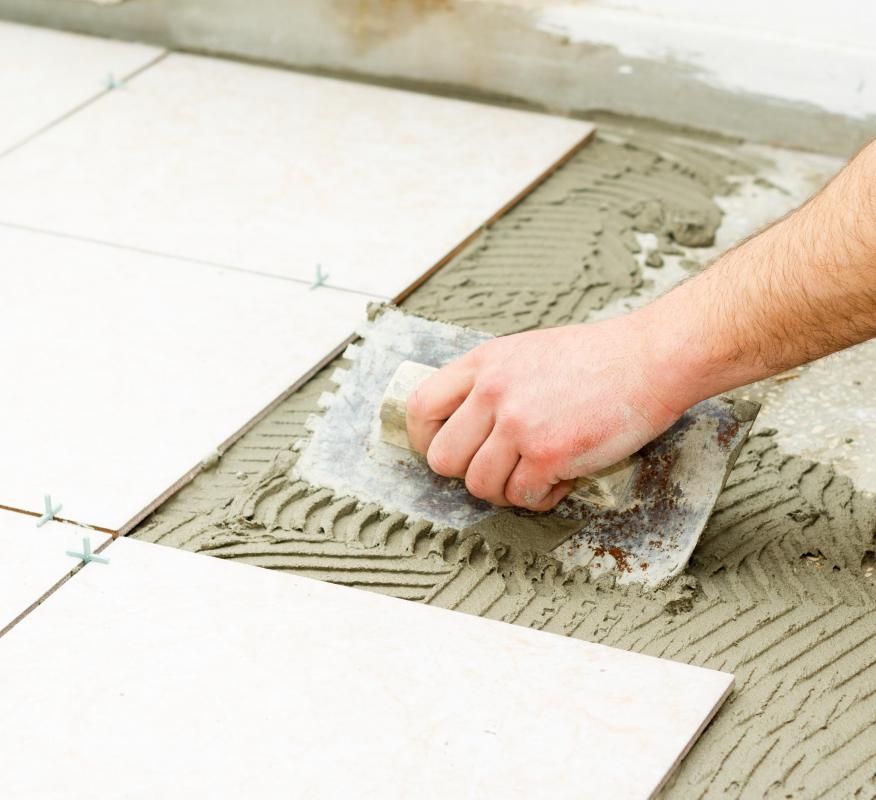 Those considering ceramic for their bathroom tile should keep in mind that if something heavy is dropped on the tile, it could possibly break or crack. When this happens, the tile can be replaced, though it is often a difficult and tedious process. It is a good idea to purchase several extra pieces of tile to keep on hand in the event replacements become necessary. Before installing ceramic, or any other type of tile, floors must be completely level, so it is often first necessary to pour a leveling compound.
Ceramic tile is available in many different colors, sizes, and shapes, and is ideal for creating intricate and unusual patterns. When using different colored tiles for a single floor, it is probably a good idea to stay within a specific color scheme. For those unsure what colors best complement one another, try looking at home décor magazines to get ideas. In addition, a color wheel is often useful to help determine complementary colors.
High-end bathroom tile is sometimes made of granite, slate, or marble. Each of these types of tile is considered more durable than ceramic, because they are much more difficult to break or crack. Marble is a good choice for an elegant or modern bathroom decor, while granite or slate work with a variety of design themes.
Vinyl tile is a popular choice because it is so much more affordable and because installation is much easier than working with natural tiles. With proper care and upkeep, vinyl bathroom tile can last for many years. Though vinyl tile is available with adhesive backs, it is often necessary to add extra glue when installing. In most cases, vinyl bathroom tile works best when applied over raw wood subflooring.
A slate tile, which can be used for a bathroom.

Ceramic tiles are a good choice for a bathroom or kitchen because they absorb very little water.

A color wheel, which shows colors that contrast and complement each other, can be helpful when choosing colors for bathroom tiles.

Modern bathrooms use minimalist tile designs.