What Are the Different Types of Bagel Ingredients?
There are typically few bagel ingredients used in a plain bagel recipe, some of which include water, dry yeast and egg yolk. Additional ingredients, such as raisins, may also be mixed with the dough to create different flavored bagels. Various toppings are sometimes added to the top of the bagels for extra flavor. Putting on spreadable ingredients is one of the most popular ways to eat a bagel that is cut in half. Those who would like to have a bagel sandwich can do so by including a variety of ingredients such as tuna, fruit or vegetables.
Ingredients typically included in a basic plain bagel recipe include sugar, salt, dry yeast, water and flour. Only egg whites and water are necessary to create the glaze that goes over the formed uncooked bagel. Some may also choose to add oil or butter.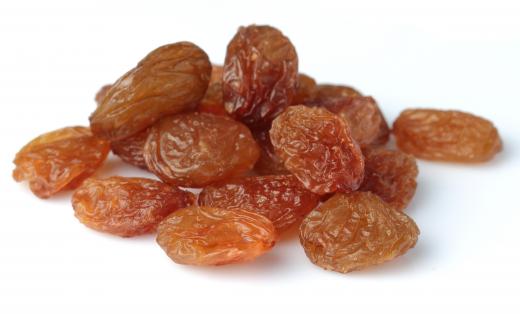 There is a huge variety of bagel ingredients that can get mixed into the basic recipe to create different flavored bagels. Some of the sweeter bagel varieties include chocolate, pumpkin spice, peanut butter, cinnamon raisin, and banana nut. Several of the additional versions are jalapeno cheddar, whole wheat, rye, asiago, and sun dried tomato.
A variety of bagel ingredients can also be added to the top of the bagels to add flavor to a plain bagel or to complement one that is already flavored. Kosher salt, poppy seeds, sesame seeds, and cooked garlic pieces are just some of the options. An additional option is to add one or more types of shredded cheese such as asiago, cheddar, and Monterrey jack.
One of the most popular ways to eat a bagel is to cut it in half horizontally, then add one or more spreadable bagel ingredients. Depending on the bagel ingredients used, or just the preferred texture of the bagel itself, the halves may be toasted before adding anything to them. Cream cheese, either flavored or plain, peanut butter and jelly, butter, and margarine are just some of the options. Flavored preserves can also be used either by itself or mixed with peanut butter or cream cheese.
A variety of ingredients can be used to create various types of bagel sandwiches rather than putting them on regular bread. A pizza bagel includes mozzarella cheese and marinara sauce as well as any toppings one might include on a pizza such as pepperoni, sausage, or onions. A tuna salad bagel sandwich typically consists of tuna and mayo with additional options such as celery, onion, mustard, or lemon juice. A snack or breakfast bagel sandwich option includes spreading on cream cheese mixed with cinnamon, then adding apple slices and walnuts.
AS FEATURED ON:
AS FEATURED ON:

By: Dionisvera

Many people like to add raisins to bagels.

By: Robert Gubbins

Poppy seeds can be added to bagel dough to vary the taste.

By: michelaubryphoto

A breakfast bagel sandwich can have eggs, bacon, and cheese.

By: Michael Gray

Blueberry bagels often have real blueberries baked into the dough.

By: diego cervo

Cheese bagels are sometimes baked with cheddar or Asiago cheese.

By: natashamam35

Coarse-grained kosher salt is often used to impart a salty flavor to an everything bagel.