What Are the Different Types of Backyard Furniture?
Tables and chairs that are made from weather-resistant materials are the most common pieces of backyard furniture, though other pieces exist to make the yard comfortable and aesthetically appealing. Dining sets that include tables and chairs, and some that include large umbrellas for providing shade, come in a variety of shapes, sizes, designs, and materials. Stand-up coolers may be made from wood, metal, or plastic, and they can be plugged into a wall outlet to keep drinks and foods cool during a barbecue. Other backyard furniture may include canopies, rocking chairs, swings, lamps, rugs, and even television and stereo components.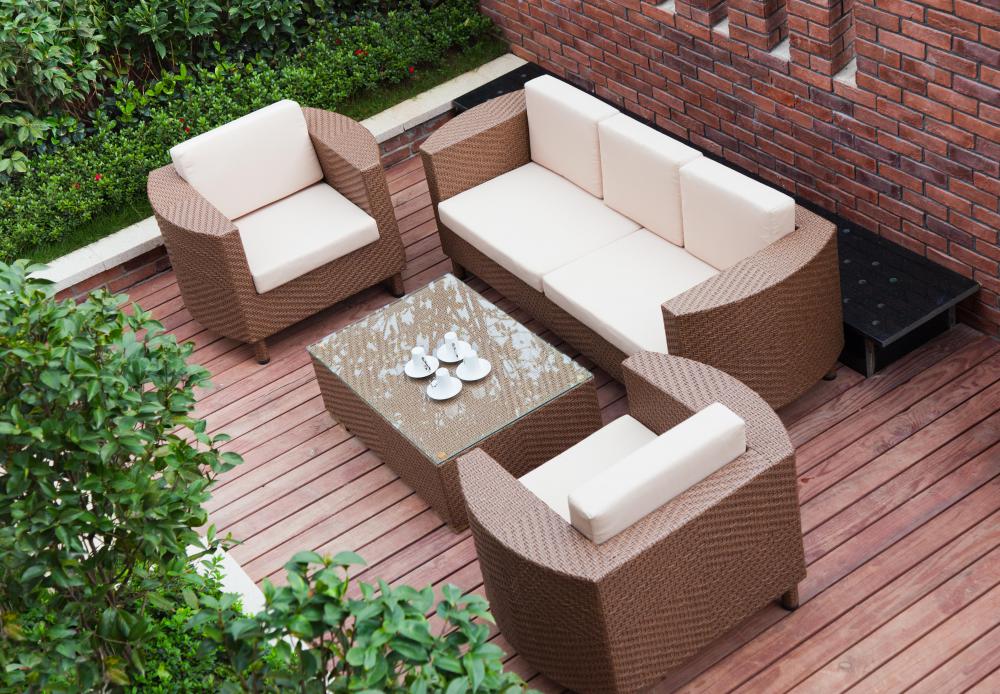 Patios and decks may not always offer sufficient shade for optimal comfort, so gazebos and canopies may be erected. These pieces of backyard furniture may be permanent or temporary structures. Gazebos are most often made out of wood or vinyl, while canopies are often made from nylon, cotton, or other pliable fabrics, with metal or wood frames. Canopies may also be retractable to allow sunlight when it is desired. Gazebos tend to be fixed structures that may or may not be enclosed; many are open air structures to give users a sense of being protected but still exposed to the outdoors.
Many pieces of backyard furniture take advantage of electrical outlets outside of the home. Lamps, for example, can give a patio space a warm feel at night, and outdoor televisions or sound systems can be plugged in to provide entertainment to family, friends, and other guests. Hot tubs may feature massaging jets; some models allow up to five or more people to sit in the tub at once. Coat racks are often placed near the hot tub to accommodate bathrobes and towels, and small stairs are placed outside the tub to allow guests to enter and exit easily.
Chairs may range from very simple models made from metal, wood, or plastic, to more elaborate designs that feature cushions and reclining backs. Backyard furniture can accommodate most types of leisure activities: wicker couches may be put by the pool for lounging, and cushions can be affixed to the couch, while more basic, inexpensive plastic chairs can be used for backyard parties. For furniture that is more susceptible to weather damage, a homeowner can purchase furniture covers that are waterproof and designed to fit snugly around tables and chairs.
Some hot tubs allow four or five people to sit at one time.

Chairs and couches may range from very simple models to more elaborate designs that feature cushions.