What are the Different Types of Aromatherapy Soap?
Aromatherapy, which many people have found to be very beneficial in their daily lives, can be incorporated into regular bathing routines by using aromatherapy soap. Aromatherapy soap comes in both liquid and bar form. It also comes in the form of bath and shower gel, which functions as body soap. Some people like to keep a few kinds of liquid aromatherapy soap in their bathroom for use during different times of the day and for different effects.
Two of the most popular uses of aromatherapy soap have to do with sleep and energy levels. Many people regularly experience low energy in the mornings, a difficulty falling asleep at night, or a combination of the two. Incorporating specific kinds of aromatherapy soap into morning and evening bathing routines can help to improve energy in the beginning of the day and promote a sense of calm and restfulness at the end of the day.
To promote energy and wakefulness in the morning, aromatherapy soap made with the essential oils of basil, vetiver, clary sage, sandalwood, frankincense, or rosemary can be used. Other oils found in aromatherapy soap include ginger, peppermint, grapefruit, lemon, jasmine, or patchouli. Blends of these scents can be very nice as well, such as basil and grapefruit, frankincense and patchouli, or jasmine and sandalwood. By using this kind of soap in the morning while bathing, the aromas can help to awaken the mind and begin the day with a nice boost of energy.
In order to become calm and ready for sleep at night, aroma therapy soap made with essential oils such as lavender, rose, neroli, Roman chamomile, bergamot, geranium, and ylang ylang can be helpful. These essential oils are used to assuage stress and anxiety and promote a sense of peace and well-being, which can make it easier to fall asleep. Even just washing one's hands with aromatherapy soap made with one of these oils or a blend can help to prepare for sleep. Some people take it a step further and choose a facial cleanser or night cream that includes one of these oils.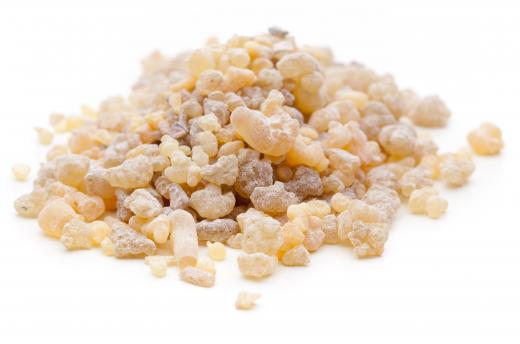 There are many bath product manufacturers and skin care companies that sell aromatherapy soap. These soaps can often be found in beauty boutiques, home stores, and sometimes even in drug stores and pharmacies. They can also be ordered online from companies that specialize in these kinds of products. For those who are serious about using aromatherapy soap, it is possible to make it at home, using custom blends of essential oil.
AS FEATURED ON:
AS FEATURED ON:

By: Stokaji

Basket of aromatherapy bar soaps.

Ylang ylang, which is often used in aromatherapy soap.

By: unpict

Frankincense, which is sometimes used to make aromatherapy soap.

By: Dessie

Aromatherapy soaps are often available as shower gels.

By: Unclesam

A bergamot orange, which is often used to make aromatherapy soap.

By: nadsud

Jasmine is a popular scent for aromatherapy.

By: Natika

Basil is a common scent used in aromatherapy soaps.

By: viperagp

Lemon essential oil is known for its ability to focus thoughts and center the mind.

By: CandyBox Images

There are various aromatherapy soaps that contain lavender, chamomile, or another soothing essential oil.