What are the Different Types of Aromatherapy Incense?
In aromatherapy, it is much more common to use candles and essential oil diffusers than incense. There are, however, a few types of aromatherapy incense featuring dozens of scents, commonly available. Many kinds of pre-fabricated incense sticks, coils, and cones are made with a combination of pressed wood, glue, and sometimes resin. Other types of aromatherapy incense that don't use synthetic fragrances include unscented sticks to which users can add their own fragrance and smudge sticks.
There is some debate in the aromatherapy community about which types of incense are appropriate to use. Some people believe that some of the ingredients in the combustible mixture are toxic when burned. For those who choose not to use pre-fabricated kinds of aromatherapy incense, the selection is somewhat more limited.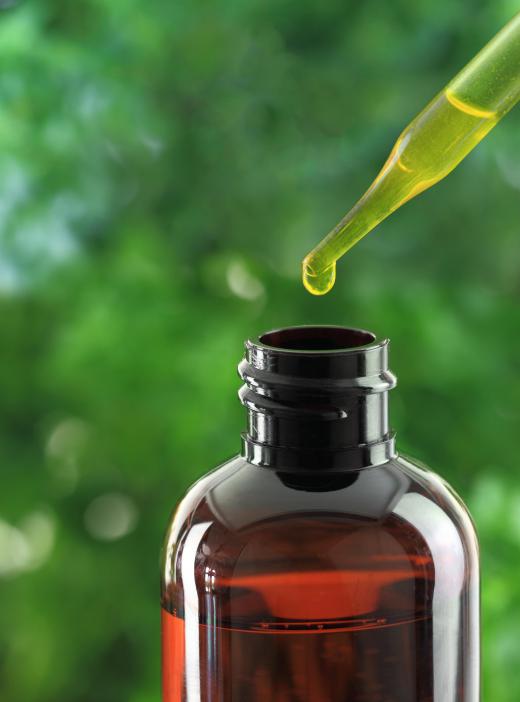 Some people prefer to use incense "blanks," which they dip in their own essential oils or essential oil blends and allow to dry before burning. While this may allow one to have more control over the scent of the aromatherapy incense, there still may be toxic elements in the glues or resins that hold the incense together. The benefit of this kind of home made aromatherapy incense is that one can be sure that the incense is scented with real essential oil instead of synthetic fragrance.
One kind of natural aromatherapy incense that does not rely on the use of any synthetic materials or binding agents is the smudge stick. A smudge stick is a bundle of dried sage leaves. Smudge sticks originated in Native American traditions in which they are used to cleanse and purify spaces. In aromatherapy, smudge sticks can be used for spiritual cleansing and purification.
There are some kind of aromatherapeutic materials that, in their dried state, can simply be burned atop a charcoal disc to create a natural form of aromatherapy incense. Some aromatherapy companies sell loose incense powders made of crushed herbs, dried herbs, woods, and flowers, for exactly this purpose. When purchasing these products, however, it is wise to check the packaging information to find out if the ingredients contain any synthetic materials. Chips of aromatic woods such as sandalwood can be burned on their own in order to create a natural kind of aromatherapy incense.
Every scent used in aromatherapy incense is believed, in the community of people who practice aromatherapy, to be able to promote or maintain health and wellness. Each scent is believed to have different aromatherapeutic effects. Aromatherapy incense is just one way to expose oneself to those scents. Other methods include the use of candles and diffusers as well as the use of essential oils in skin care products and bathing products.
AS FEATURED ON:
AS FEATURED ON:

By: viperagp

Some people like to use incense "blanks" to dip in their own essential oil blends.

By: gigidread

Some aromatherapists believe sandalwood incense has beneficial effects.