What Are the Different Types of Appetizer Finger Foods?
While appetizer finger foods can be vegetarian, hot or cold, baked or fried, they must always be bite sized, and easily handled without serving utensils. They can be foods as simple as carrot sticks with dip, perennial favorites such as chicken wings, or more involved, such as mini quiches. The event will often help a host select from the nearly endless appetizer finger food recipes available.
Certain types of meat can serve well as appetizer finger foods. Chicken wings are common as appetizers in some regions. Instead of full sized pieces of chicken, party wings, also known as wing dings, are generally used. This type of chicken is unique in that the drummette of the wing is separated from the flat portion and the wing tip is usually omitted altogether. There are a wide range of possibilities when making chicken wing appetizers because they can be baked, fried, or grilled and can be coated in a variety of sauces such as buffalo, teriyaki, and BBQ.
Meatballs, usually made from minced meat and spices, can also make for great appetizers. There are numerous possibilities regarding the type of meat that can be used, including ground turkey, beef, or ostrich. At some events, meatballs are served plain, but other hostesses serve them smothered in sauces such as sweet and sour or tomato basil. To make them easier to handle, they're often served on toothpicks.
A platter of different types of foods such as vegetables, fruits, meats or cheeses is another option for appetizers. An antipasto platter is an Italian dish which provides individuals with a variety to pick and choose from. Though there are numerous ways that it can be prepared, it is common to find that an antipasto platter has marinated vegetables, pickles, and olives. It may have a variety of cheeses or solely fresh mozzarella. This type of platter also commonly has one or more types of meat including prosciutto and smoked ham.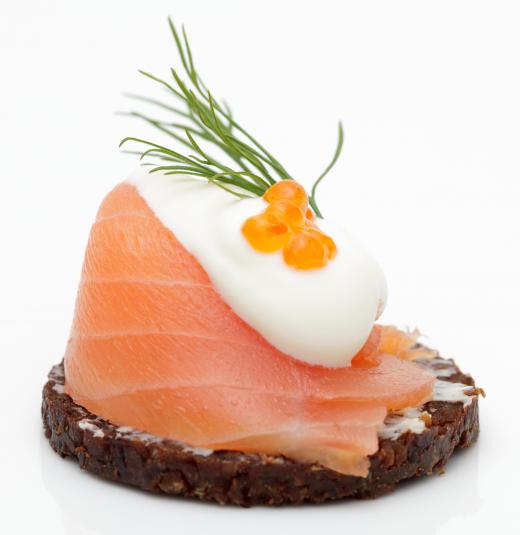 Kabobs are appetizer finger foods that can provide another opportunity to add a lot of flavor and color. Peppers, pineapples, and tomatoes are some of the items are often included not only for their tastes but for their visual effects. Some people stick strictly to vegetarian items on the kabobs, but others add meats such as shrimp, beef, or chicken.
Deviled eggs are finger foods that can be dressed up to make them an attraction in addition to a snack. Making this dish generally involves boiling whole eggs. Afterward, the eggs are sliced in half and the yolk is used to make a creamy filling that will be put back into the white portions. To add visual appeal, paprika, pimento, or finely minced peppers can be sprinkled on top. The dish can also be made attractive by filling the egg whites with yolk mixture piped through a decorating bag with a shaped tip.


Crostini with mozzarella cheese, chopped tomato and basil.

Classic antipasto platter including sliced prosciutto and salami along with olives and assorted varieties of cheese.

An appetizer with cheese, tomato, olive and basil.

Shrimp appetizers.

Salmon canapés with crème fraîche, caviar and dill.

By: Viktor

A bowl of bocconcini, small balls of fresh mozzarella.

By: Barbara Helgason

Cheese and crackers are a popular appetizer.

By: Joshua Resnick

Chicken wings are tasty finger foods.

By: MSPhotographic

Meats may be added to crackers for an easy appetizer.

By: Betty Abrantes

Caviar appetizers are finger foods suitable for a cocktail party.

By: Matthew Antonino

Broiled, bacon-wrapped scallops.

By: nataliazakharova

Potato chips with dip are an easy appetizer.

By: JJAVA

Little smokies might be served as a finger food.

By: .shock

At any cocktail or dinner party, offer an assortment of vegetarian canapes and appetizers.