What Are the Different Types of Antacid Tablets?
Antacids are medicines that are taken orally to help relieve sour stomach, heartburn, or acid indigestion. They are available without a prescription, but in some cases a physician may have special dosing or usage instructions. The different types of antacids include calcium carbonate, sodium bicarbonate, magnesium hydroxide, aluminum hydroxide, and dihydroxyaluminum sodium carbonate. These are sold under a variety of brand names.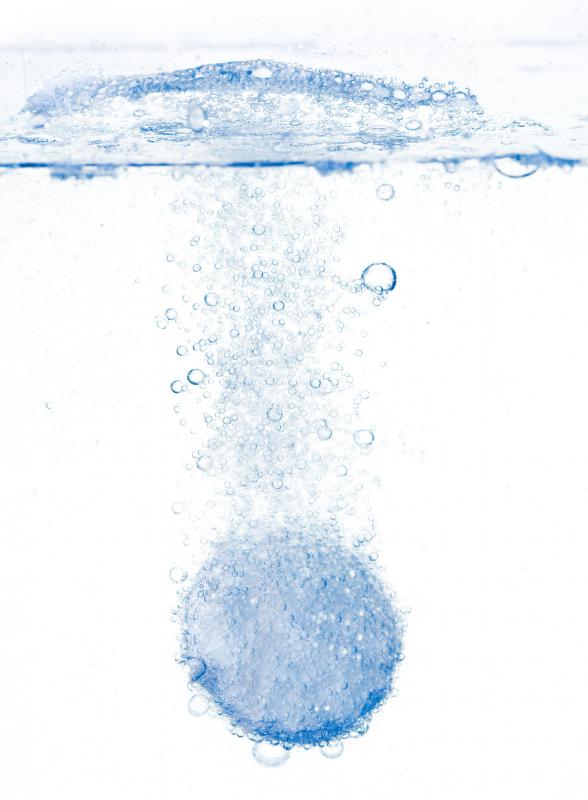 Antacid tablets are available as four different physical types. Plain antacid tablets are meant to be swallowed with water or other liquid. Effervescent tablets are available that will bubble and dissolve in water, and chewable tablets are meant to be chewed thoroughly before swallowing. The fourth type of antacid tablet is extended release. These are swallowed whole, like plain tablets, but are manufactured in such a way that the medication is released slowly, over time, providing long-term relief of symptoms.
The same compounds used in antacid tablets are used to provide other benefits as well. Aluminum hydroxide is sometimes combined with a diet low in phosphates to treat hyperphosphatemia, a condition where there is too much phosphate in the blood. Magnesium hydroxide is often used as a laxative. The dosage must be much higher than is used when magnesium hydroxide is used as an antacid, and the laxative is often given in liquid and not tablet form.
The same medications available in tablets can also be purchased in other forms as well. These forms are plain powder, effervescent powder, powder for use in a suspension, wafers, liquid, granules, capsules, in a suspension or in a solution. It is helpful for people to have different methods to choose from, because one type of medicine or a medicine that is prepared in a certain way does not always resolve the problem. It also allows for personal preferences. Not all types of medication are available in all of the various forms.
The different formulations for antacids allow them to provide a range of benefits for a variety of symptoms. Some have simethicone added to them, to provide relief from excess gas. Others do not, as gas relief is not always needed. The different formulations can also potentially cause problems, as many antacid tablets contain a great deal of sodium and should not be taken by anyone who requires a low-sodium diet. For the most part, though, antacids are a safe way to get relief from stomach problems and are not likely to have any notable side effects.