What are the Different Types of Actuary Courses?
Becoming an actuary can be an involved academic process. Even after an individual becomes an actuary, she must continue her education in order to pass certain examinations and progress in their careers. Professionals begin taking actuary courses in college, along with other financial courses, and then they attend additional actuary courses to prepare for these exams. There are a wide variety of actuary courses, including those in risk analysis, economics, and business, as well as courses specifically targeted toward the actuarial exams.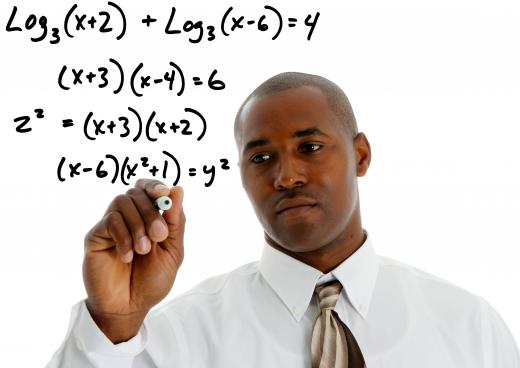 When earning an undergraduate degree in actuarial sciences, students take actuary courses that allow them to learn about risk analysis, insurance underwriting, risk management, and statistics. At most college-level programs, students are also advised to take economics courses, advanced math courses such as calculus and linear algebra, marketing and other business courses, and computer science. Actuaries need a well-rounded education because their future careers in insurance risk will require the ability to understand and learn about a wide range of topics. The depth and breadth of their knowledge, and their ability to assimilate new knowledge, are even more important if they choose career paths outside of insurance.
After graduating, people interested in becoming actuaries must usually then pass a series of exams which vary by country. In the US, for instance, they will have an examination on probability called the Course P/1. The actuary courses for this exam will give actuaries the chance to learn through practice problems and a practice test. It also affords participants the chance to discuss all of the practice material with their classmates and instructor.
Another set of US actuary courses focus on Course FM/2, which delves into financial mathematics. These course can take two or more days, including practice examinations and required textbooks. The actuary courses for Course M prepare attendees for two exams, MLC and MFE. These courses consist of two seminars, which can be taken at the same time or at different times, and these seminars include optional practice tests at the end.
Some actuary courses also help actuaries earn professional designations, such as the Associate of the Society of Actuaries and the Chartered Enterprise Risk Analyst (CERA). For these designations, actuaries must take a professional course that delves into code of conducts and standards of practice. The CERA designation also requires actuaries to demonstrate expertise in various types of insurance, such as health and life insurance, and a specific knowledge of a particular subset of actuarial science.


By: sakkmesterke

After graduating, people interested in becoming actuaries must usually then pass a series of exams which vary by country.

By: Rob

Actuary students are required to take advanced math courses.

By: edbockstock

Actuarial analysis is typically used to calculate the price of insurance premiums.