What are the Different Types of Activewear Bottoms?
Activewear, sometimes also known as sportswear, is a type of clothing designed specifically to wear during sports or exercise to help optimize performance. The term "bottoms" refers to any type of clothing worn on the lower half of the body, whether by men or by women. Activewear bottoms might include — but are not limited to — full length pants, capri or three-quarter length pants, shorts, skorts, skirts and leggings. These bottoms come in many types of materials, including fabric that wicks away moisture, cotton or cotton blends, spandex and polyester. Activewear bottoms usually are as lightweight as possible so they do not hinder the wearer's movement, which is essential to sports performance.
The type of fabric used in activewear bottoms can vary, depending on the qualities that are desired. Fabric treated to wick away perspiration prevents sweat from getting trapped between the skin and the fabric, allowing it to evaporate so it doesn't soak the fabric and in turn chafe or irritate sensitive spots. Fabrics that contain polypropylene, a thermoplastic polymer, or that are treated with it typically are good for this function.
Fabric made of cotton or cotton blend tends to absorb sweat, making cotton exercise gear feel wet and heavy as the workout progresses. Cotton activewear bottoms might make sense for someone doing a short or light exercise routine. Most cotton activewear tends to have a looser fit than spandex or polyester.
Spandex is a material commonly used for more form-fitting workout attire. It can be combined with wicking substance to allow for a close and dry fit. Spandex alone will not wick moisture away from the body. Similarly, polyester can be treated with polypropylene to help wick moisture, but untreated polyester will not have the same effect.
The type of activewear bottoms chosen depends on the sport or exercise being undertaken. Basketball players, for instance, wear loose-fitting shorts to give them room to maneuver on a basketball court. Cyclists and runners usually wear tight-fitting pants or shorts that offer the least wind-resistance. Long-distance runners might wear compression shorts to ward off cramps that come from such long periods of activity.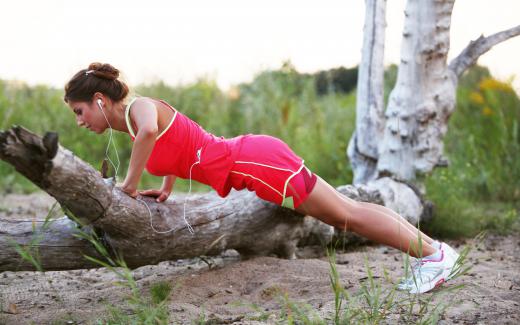 Previously used primarily for tennis, fitness skirts have become more versatile. They are worn by women during many types of physical activity, from running to weightlifting. Workout skirts usually include built-in shorts or briefs with reversed seams to prevent chafing.
The price of activewear bottoms ranges from very inexpensive to costly, depending on the features desired. For example, plain cotton workout bottoms generally cost less than bottoms treated to wick away sweat. The brand of the activewear bottoms also is a factor in how expensive they are.
AS FEATURED ON:
AS FEATURED ON:

By: nito

Compression shorts.

By: Ljupco Smokovski

Road cyclist wearing activewear bottoms.

By: Sergejs Rahunoks

Shorts and sleeveless tops are ideal for outdoor exercise in warm weather.

By: Galina Barskaya

Previously, fitness skirts were used primarily for tennis.

By: Maridav

Some running shorts are very short in length.

By: Syda Productions

Activewear leggings are worn by many women joggers and walkers.