What are the Different Surgical Technologist Jobs?
A surgical technologist, also known as an operating room technician, principally works in the operating room conducting tasks that make the surgical environment clean and safe. She is usually part of a surgical team and typically supports any doctors, nurses, or medical personnel that are part of the operation. The surgical technologist jobs are often associated with some specialized practices. The majority of surgical technologist jobs are found in hospitals - only rarely would a surgical technologist be employed by outpatient surgical centers, work as a private technician, or teach other technologists as an instructor.
Although there are many different genres of surgical technologist jobs, a few are quite common including scrub technologists, circulating surgical technologists, surgical first assistants, and private scrubs. These surgical technologist jobs vary according to their duties and the amount of experience or education they have received. The common denominator between each of these specialized jobs is that they all spend time in the operating room.
A scrub technologist is a surgical technologist who performs duties before and during an operative procedure. In general, she must anticipate what each surgeon and nurse needs, fully understand the operation that is being performed, and make sure that a sterile environment is preserved. In preparing for surgery, she may check supplies and equipment, set out sterile linens, and arrange the sterile table to the liking of the surgeon with all the essential surgical instruments and equipment. She may drape the sterile field and help the surgeons and nurses into their surgical gowns and gloves. Once the surgery is underway, she may pass surgical instruments or other supplies to the doctors and nurses, cut sutures, prepare sterile dressings, and monitor EKG machines and other electrical equipment.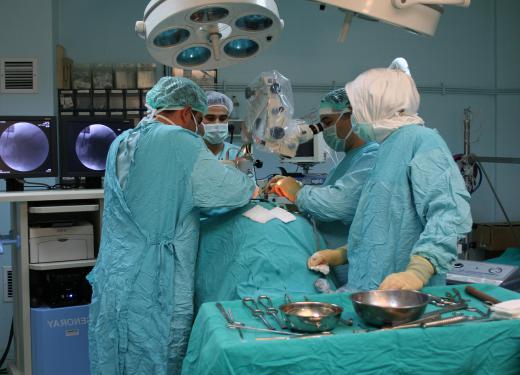 Among the most interesting surgical technologist jobs is the circulating surgical technologist. She is almost always unsterile, unlike the scrub technologist who is sterile and works in a sterile environment. Her duties include gathering supplies, instruments, and equipment while the surgery is underway. She may check the patient's chart, bring the patient to the operating room, move the patient onto the operating table, and position the patient so that he is ready for surgery to begin. In some cases, she may prepare the incision site, apply electrosurgical pads, and count the surgical equipment both before and after surgery to ensure that everything was removed from the surgical site and nothing was sewn back into the patient's body.
One of the highest levels of surgical technologist jobs is the surgical first assistant. She usually has additional levels of education and experience. In general, the surgical first assistant helps the surgeon with various technical duties, such as hemostatis. Another level of surgical technologist is a private scrub. A private scrub tech is a surgical technologist who is directly hired by a particular surgeon. She would assist that surgeon during every one of his operative procedures.
AS FEATURED ON:
AS FEATURED ON:

By: Gennadiy Poznyakov

A surgical technologist makes sure that operating rooms and equipment are clean and ready.

By: muratolmez

Operating room technicians perform tasks that make the surgical environment safe and clean.

By: Remains

A surgical technologist may help the medical team put on their gloves.